How to sell SEO services using Pro Rank Tracker
SEO is mainly a field of experts, helping various clients, reach the top of the SERP. That means that for the most part, SEO experts are dependent on a steady income of leads and new clients to stay in business.


Acquiring new clients, keeping existing ones, up-selling and getting leads are all necessary skills for anyone running a business, but especially in SEO.


Luckily, these are highly developed fields of knowledge, and countless guides and tools can be found online specifically directed at achieving those goals and improving odds.


This is one of those guides.


We are sure you have your methods and arsenal of approaches that help you sell your expertise to those in SEO need. But we are talking about augmenting your game even more.


So today we will spice up that arsenal of yours with our unique tools. Tools that will provide high value to existing clients and help you close those future deals.


We will tackle this on two fronts – Appearing big and established and showing high value.


Appear big and established

To start it all, before we even get to the actual selling part, you need that solid first impression.


Let's imagine Jerry the door to door salesman and his colleague Bill for a moment. The dynamics of D2D are a very basic principle of sales, that exist in many fields that require "cold approaches". It started as door to door, then evolved to telemarketing, and now applies to getting customers online as well, so it's a useful archetypical metaphor to keep in mind.


So, Jerry isn't the smoothest salesman, but he looks sharp and tidy, always suited up and elegant. Bill has a mouthpiece that can sell bibles to an atheist, but he dresses all casual, and doesn't look much like a pro. Once through the door Bill has the edge, but when you look at the monthly figures, Jerry sells more because he looks like a pro and gets invited inside more often. He passes the first test.


This is the difference between looking like a pro and looking like an amateur.


Whether you're an old player or a new one – if there is something that you need to establish early on, before any negotiations begin, is that you are a professional BRAND. You need to demonstrate that you can get the job done, otherwise you won't even get to showcase your sales pitch and skills.


One of the most basic ways to go about it is to look like one. This is a principle that relies on a very simple psychological principal and has been used by giants such as Google and many others for years. We even wrote a whole piece about that a while ago:



Businesses use this psychological principle to influence customer impressions


So, here's a few PROVEN ideas you can apply with Pro Rank Tracker to appear like a powerful established SEO brand:


Showcase your logo and details on SEO ranking reports


This is by far the most basic one. Sending SEO ranking reports to your clients shows transparency and lets them know there is progress, and that their faith in you is well deserved.


We have more than 13 types of ranking reports that you can generate and send to your clients. Some of them can be used to build stunning case studies for potential clients.


So, no matter if you are sending them to your existing clients or potential ones, they need to have YOUR logo and details on them. In our field it's called white label solutions, in case you didn't know.


You can attach your logo on top of every report, as well as opening and closing paragraphs of free text and images. And you can set up an unlimited number of unique report templates, tailored for every use case.


Show, don't tell, as the saying goes, so check out this sample PDF Overview Report. Our most basic SEO ranking report.


Show a LIVE online ranking report on YOUR domain


This is our Shared Report feature. A live online report that can be masked with your URL and have your logo featured on top.


It can be encrypted with a password and an expiration date to protect your client's ranking data.


Some of our users consider this a more convenient solution than sending PDF reports by email.


Again, you can see one right now HERE (password is "shared")


You can generate as many of these reports as you need with no limit.


Give your clients YOUR own rank tracking mobile app


Reports are great but let's take it even a step further.


MyRanks is a mobile app that shows live ranking data and has your logo. It also has an "About" tab that will have your company's details in it.

You can set up unique user names and passwords and let your clients download it. It will show them their specific ranking data from the convenience of their mobile device, and will also appear like it is your own mobile app.


Here's how it looks: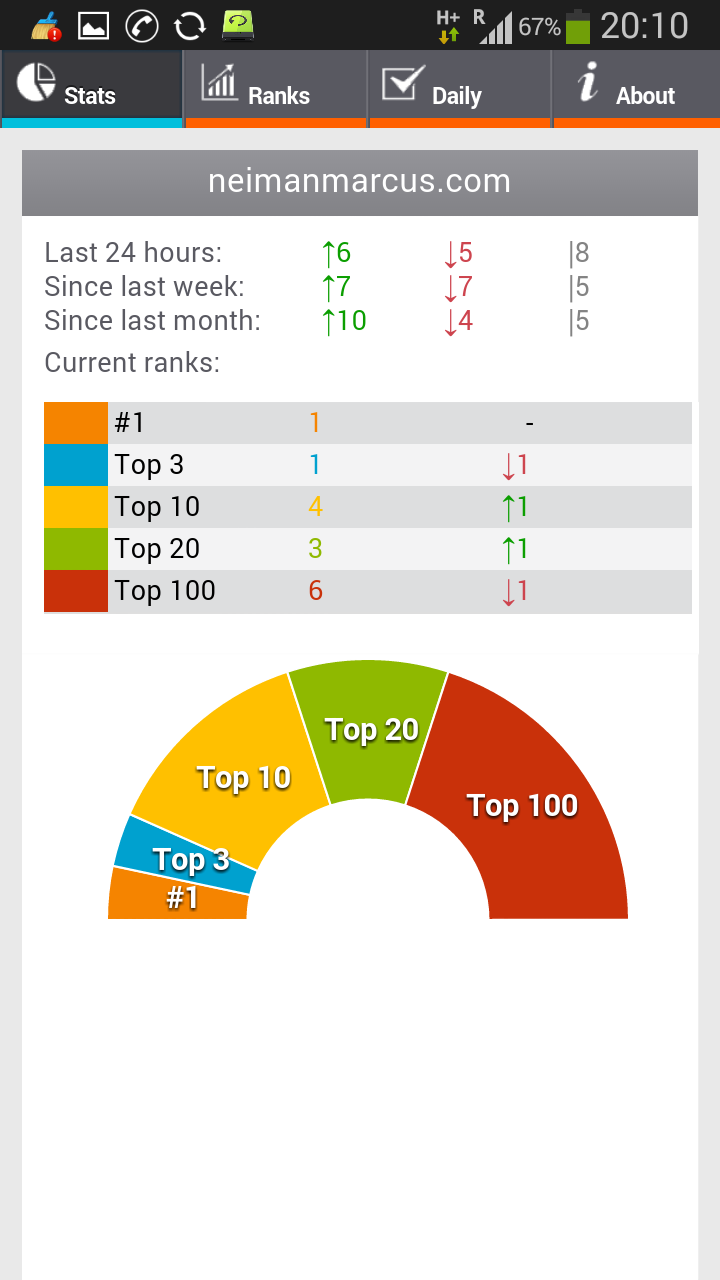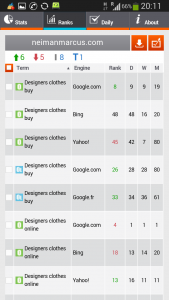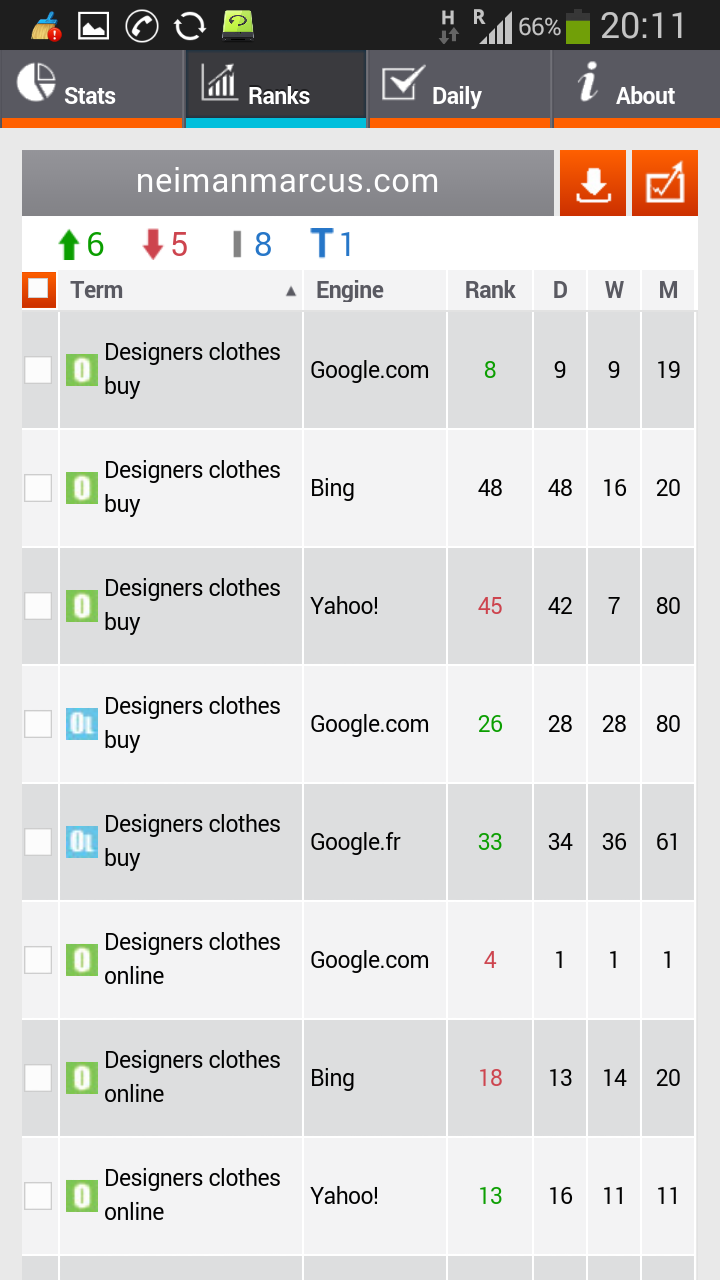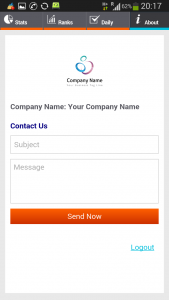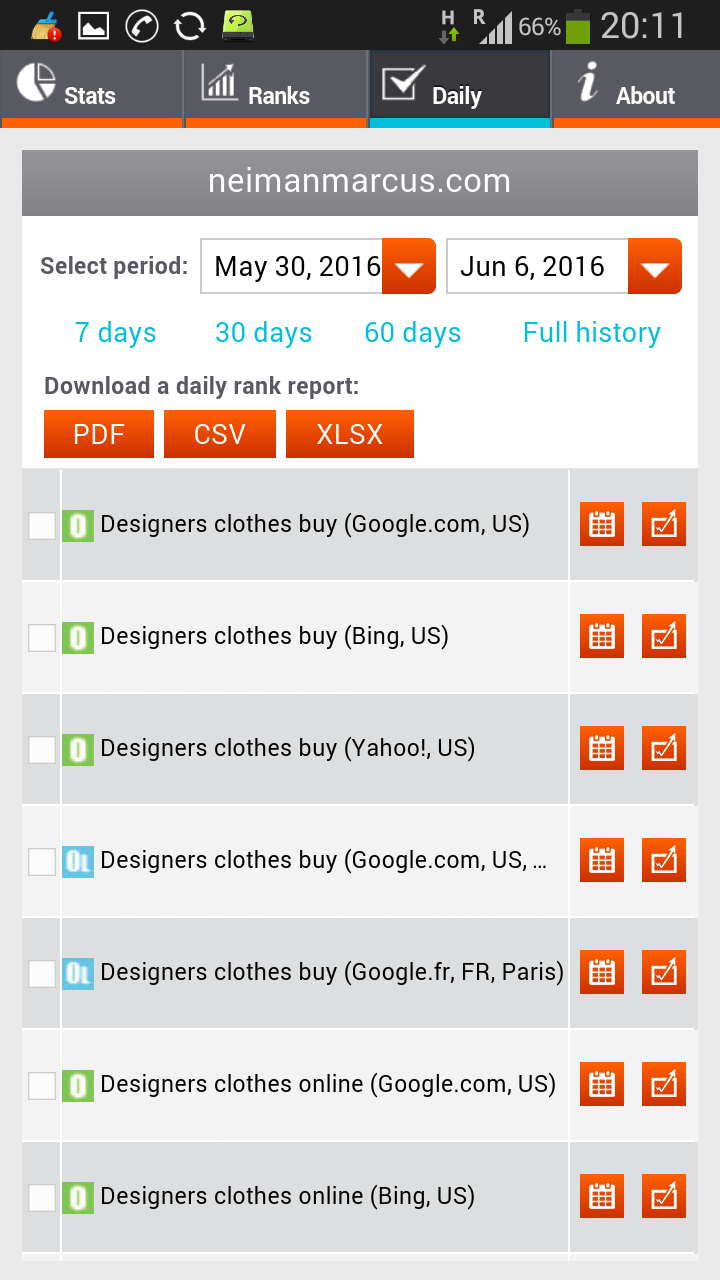 Show them you have your own SERP tracker


This is the most powerful white label feature we have by far.


Sub-Accounts are smaller and stem from your main admin account. They can be set with a unique username and password, and best of all – the PRT logo can be replaced with your logo, effectively making our rank tracker appear like YOUR branded rank tracker.



We remain behind the scenes and you can use this feature as your own.


It was designed not only to help you distribute work among your team, but also as a way to look established and impress your current and future clients.


You can give them full near-admin level of access or limit it to how you see fit.


A sub-account can include all the tools and features PRT offers. Such as Full SERPs, our SEO Site Audit Tool and the Ranking Discovery Tool.


So, you can probably imagine how having your logo on a tool, that offers industry leading features, might benefit your brand.


Give them preliminary value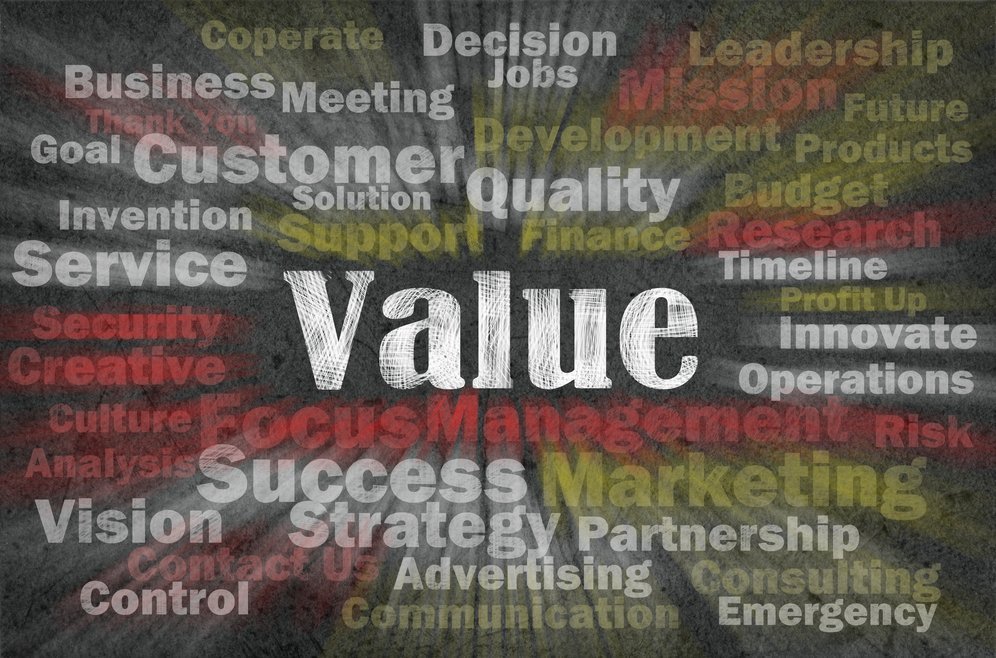 These methods are mostly for a later stage, when you already have your potential client's attention (although, as you will soon learn, the Audit Tool and regular Rank Tracker can also be used for cold reach outs).


So, you have your foot through the door by appearing highly professional and established as an SEO expert/agency. Now you can spice up your regular sales pitch with some value for the potential client.


You can provide them with some juicy intel on four subjects:


How well optimized is their website?


Run their URL through our SEO Site Audit Tool, and see what comes up.


The tool will crawl their website and analyze the technical SEO health of the website within minutes. No need to crawl the entire website, a few hundred pages is more than enough as preliminary value, and chances are if a few are poorly optimized so are the rest.


After the audit is done you will be able to see all the technical issues that can be improved, plus an overall SEO score:



The beauty here is that the tool can generate a simple version of the audit report with the general SEO score (and your logo on it), that your future client will easily understand.


Chances are the score will not be perfect for many reasons. Maybe he attempted to optimize his website himself and did a poor job, or maybe the SEO experts before you were incompetent, etc.


Whatever the case may be, from there it is up to you, to explain how you are the one that will bring that score up with your expertise.


Of course, you can also send Audit Reports in cold reach outs and suggest your services if the score you find is truly abysmal. Anyone who will see a red score of 34% will at the very least be curious.


Are they already ranked on any of the major search engines?


Now this is some truly rare intel you can discover not only for possible clients, but also for your own websites.


Our Ranking Discovery Tool can do a "reverse search".

That means that instead of entering a search term and checking how a URL ranks like you usually would, you can enter a URL and see what search terms that URL might rank Top 100 for any of the major search engines!


For example, let's see what ranks we will discover for the apparel giant farfetch.com:



The tool in this case discovered 2907 Top 100 ranks for that URL on Google, Bing, Yahoo! and Yandex.


If you use it on a smaller website it will of course discover far less ranked keywords (depending on how well optimized and ranked that website was to begin with).


Let's say you discover just 50 keywords your potential client's website is already ranked for. From that point on, it's up to you to let them know that those ranked keywords can reach the top of the SERP with your help. Best of all, the client might not have even known his website already ranks Top 100 for some of them. This means you can give even more value to an already high quality pitch.


From the ranked keywords, you can generate a simple Overview Report and send it to your client before the meeting, or as a possible meeting incentive to get their attention.


Bring some juicy Competitor intel


The next thing a person cares about other than their own website is information about their rivals.


You can start with the big guns of the niche. Simply pick 3-5 leading websites in your client's niche and use the Ranking Discovery Tool to see which keywords they are actively promoting (these keywords would rank at least Top20 for their URL).


Establish those websites as the ones to beat, and reveal some of the keywords that they promote in that niche, that might be relevant for your client. Maybe they are ranked poorly on some high quality keywords that you can instead dominate, or you can gun for the main keywords that they rank highly for.


Next you can go a step further and analyze these websites with the Audit Tool and see how well they score. Chances are their score will be better than the client's website, and you can set that score as an initial goal to reach. You can also present those scores as a way to "learn from the best", since these websites dominate certain search terms for a good reason, such as having a very solid SEO infrastructure on their websites.


You can do the exact same process on any URL that the client sees as their direct business rival and get that sweet "secret" intel.


To take it a step further you can even show them how their ENTIRE niche is doing. You can do this by showing the entire Top 100 SERP roster, of any given search term, on any of the search engines that we can track.


To do that, we will use our Full SERPs tool that tracks entire Top100 SERPs for all of the search engines that we track. Here's for example how the highly prestigious Facebook related niche correctly looks from the Top 20 perspective on Google, for the search term "Facebook":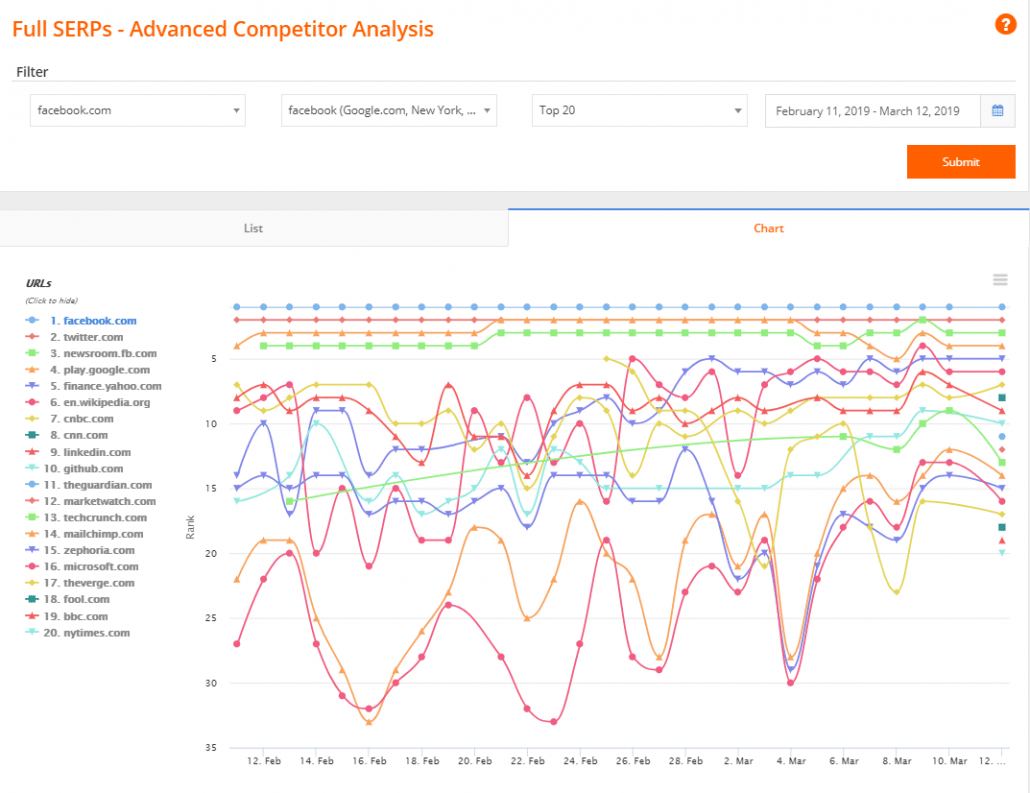 Show your expert niche knowledge with Keyword lore


Other than improving on-site SEO infrastructure, one of the main targets of any SEO campaign is to target niche relevant keywords with high search volumes. By using these keywords, you can help your clients generate high quality organic traffic.


Researching keywords can give vital hints about a niche and can be a very good topic for that sales meeting – which keywords to use to promote the site to the top of the SERP.


Your potential clients may not always be SEO savvy and might not be familiar with all the potential keywords that they should pursue in their niche.


Which is why we have devised a method that can potentially reveal ALL the keywords in any niche that have actual monthly search volume. This method is fast to implement but it takes a little learning, which is why you should check out our guide right here:



How to discover thousands of keywords from just a single keyword for virtually any niche: Step by step visual guide


This will also be a tremendous help in any SEO effort, and not just for your own clients.


Now by all means, this doesn't mean exposing the entire hand. Just giving a taste of what is possible here is a good approach. In any case you will have the option to come with a thick list of thousands of possible keywords to promote, for any potential client, in any niche.


And best of all – every keyword that you discover comes with monthly organic search volumes included, so you can also measure their marketability!


Show proven case studies


At the end of the day, people also want to know that they will be in good hands. If you have some proven success stories, you can spice up your case studies with some historical graph reports. The reports could show the journey a website made, whilst you were promoting them during a certain period. This can also be presented through our Full SERP graph and show contrast versus all the main competitors for the keywords you were pushing.


In order to do that, you need to track your SEO campaign from the start, so you will have all that data to show.


Conclusion


The beauty in these methods is that they are exploring the data that already exists about websites and SERPs. It is then compiled into an easy to understand format for both yourself and your clients.


All the steps that you read about might seem extensive, but they will not take you more than several minutes to implement once you get the hang of it. Yet the value that they bring is equal to an extensive research, that would traditionally take days to complete with other methods and usually with several tools involved.


They are tried and tested methods, and can be quite successful, even if you use just some of what you learned here. Pro Rank Tracker is a tool for clients that have their own clients, which is why all our features were also designed to help you bring value to the table and close the deal. We have made it our goal to take your game to the next level SEO-wise.


These are of course just our suggestions and ideas that our users have shared with us. The uses here are up to your marketing imagination and creativity. The gist of it all is to show existing and new clientele that you are the real deal, and that you have come prepared with a battle plan for them. That it will not be some improvisational show with their money on the line, but a real professional action plan.


So now comes the fun part:


Want to try all that you read about for FREE?


It's so easy and best of all will not require any credit card details and auto-renewal traps.


It's all included in our awesome 7-day free trial, with all premium features unlocked for you to test run. We will even throw in a Skype session, in case you need a walkthrough!


Finally, if you enjoyed this little guide, please subscribe to our blog, so you won't miss out on the next awesome guide and those search engine rank tracking tips.
https://proranktracker.com/blog/wp-content/uploads/2019/04/ISS_17053_00057b.jpg
300
800
ProRankTracker.com
https://proranktracker.com/blog/wp-content/uploads/2020/11/prt-blog-1-1.png
ProRankTracker.com
2019-04-25 18:01:28
2019-04-29 12:44:22
How to sell SEO services using Pro Rank Tracker