How Google Business reviews influence your local search engine ranks

One of the major benefits of having your business listed in Google's business results is that they can show user reviews.


Reviews can be a great way to give your business a boost and acquire actual customers. A person that is actively checking out reviews, is probably already interested in purchasing that product or service, further down the line.


Checking user reviews is the most basic and easy form of consumer research – seeing what another Joe Shmoe thought about it.


But do reviews have SEO benefits as well, or is their value only in marketing?


So, to answer that question, we will explain how Google Business reviews directly influence organic ranks and why you should start asking your customers to write them.


In fact, according to this research by Local SEO Guide, reviews might be the second strongest ranking influencer, after having traditional solid organic rankings.


So, the explanation how reviews influence organic ranks is actually quite simple, and falls in line with Google's basic principles to determine ranks:


Reviews show Google there is interest in your business


Like backlinks, reviews tell Google that there is interest in your business. The more interest it gathers, the more it will signal Google it's worthy of being featured higher in their search results.


There has even been cases where an actual drop in ranks was observed,. This has happened after Google has removed a chunk of reviews from a business, because they were fake or broke some sort of guideline.


It's one of the core principles that made Google present higher quality search results, and is not likely to change.


Google TRUSTS reviews more than your SEO strategies


Backlink building and other traditional SEO strategies are constantly losing power. Since they are so documented and researched by the community, Google knows they might get manipulated. As a result, they are constantly improving their ranking algorithms and there is a regular race of arms between Google and SEO experts.


But reviews are different. They are still considered as a "cleaner" organic signal. Sure, reviews still get manipulated, but the penalty for that is more than just losing your rankings. You can also lose hundreds of thousands of dollars in fines, as these companies found out the hard way.


For example, a trendy new pub opens up in your town. It might take months for it to become highly ranked organically, but because it's a local hotspot, it will start racking up reviews by enthusiastic customers. The reviews in this case will give a ranking boost to the business and show Google something interesting is there, long before any backlink strategies take effect.


Also Google will know in most cases if a person that left the review actually visited the place. They have tens if not hundreds of methods to know your phone's location. Having a person that visited your establishment physically leave a review, will add credibility to the review and enhance its influence as a ranking signal.


Engagement signals – reviews drive clicks and visitations


Reviews are an amazing almost magical influencer when it comes to driving traffic to your business. Consumers are savvier than ever and checking reviews before buying is one of the standards of most purchasing decisions on the internet.


We will need an entire article discussing just the marketing power of reviews and how they can become a MAGNET of traffic. Luckily, we wrote one just a while ago:



Since this is not the main subject of this post, we will leave you with the link above, and just say that leaving, or simply getting reviews (positive or negative) is engaging with your website. And that sends a positive message to the Google algo.


Clickthrough rates (CTR) and frequency of visits to your website are also a known engagement ranking signal.


Get a nice batch of honest reviews, that will fall in the research-backed sweet range of 4.0-4.7, and people will take notice and will want to check out your business. If your content is enticing and people stay on your website more than a few seconds, then even better, since a solid visit time is also a positive ranking signal.


Not to mention the power of reviews to drive actual physical traffic to your place. People might be so influenced by reviews that they will flock directly to your business, skipping all the tedious steps in between.


Reviews are external content that feature relevant keywords


Google's spiders LOVE content. They aspire to crawl every inch of the surface web, but they have a bias for crawling popular websites first, since they offer the most promising and nutritious content meals.


The most popular website is Google itself, so the content that is found in Google Business reviews is very frequently crawled. In fact, sometimes keywords from the reviews themselves might rank you in their search results: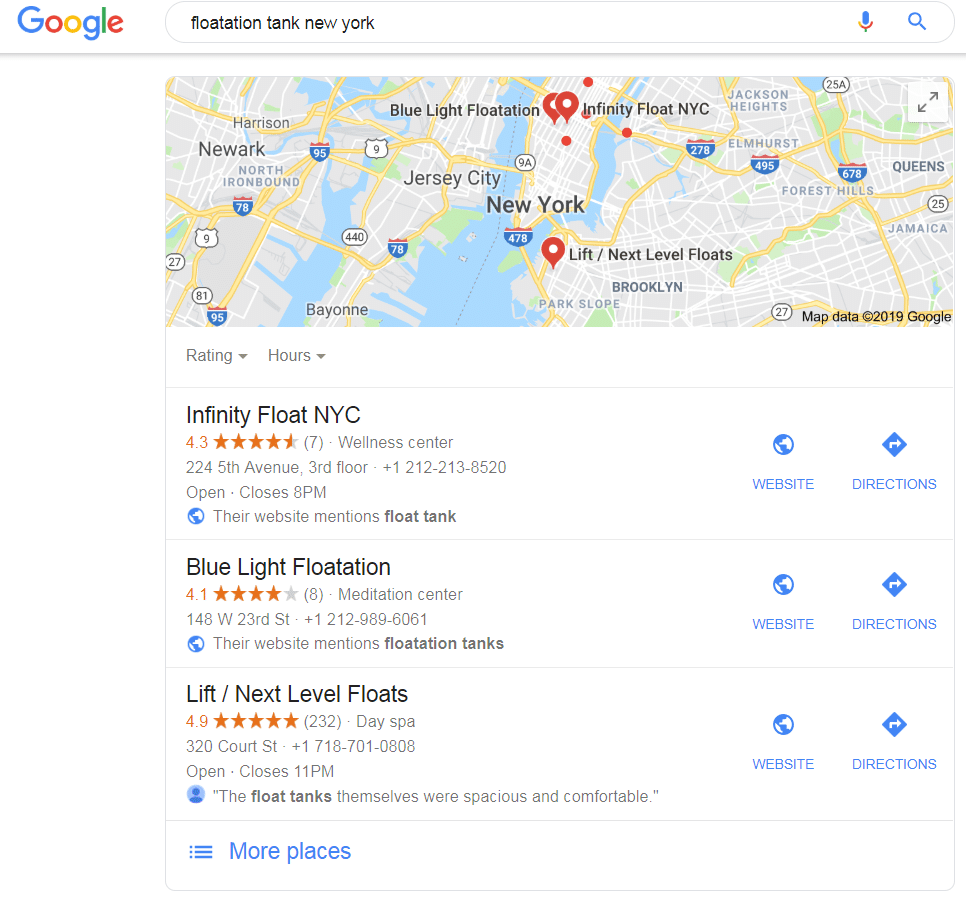 This is also the reason why reviews from other websites, and various directories that list your business, also matter quite a bit as far as ranking goes. It's essentially "free" backlinks and external content pointing at your website. Which has been acquired simply by being good at what you do and encouraging satisfied customers to leave reviews.


Yelp and TripAdvisor are very well ranked organically. If you are in the hotel niche for example, you can see that many highly ranked niche-relevant search results are from those websites. If your business is mentioned with a niche-relevant keyword on Yelp or TripAdvisor, then for Google that means a credible high ranking website is linking back to your website and business.


Next we need to understand the TWO types of Google ranks that will be influenced by the reviews and also how to track them with Pro Rank Tracker.


Local Pack (Snack Pack) and Map Search Results


This is the playing field that is the most influenced by reviews. This feature was made to begin with for the benefit of local businesses, but most importantly to get location-relevant search results to people.


A small business with a modest SEO budget can dominate the map results, without having a similarly strong organic presence in the regular search results.
Being featured in Snack Pack is by far one of the most coveted positions of local SEO. Just look at it:



It's a detail-rich eye candy that pops out from the regular "dull" search results. It's featured on TOP of the regular search results. You can see how close to you these businesses are, and most importantly it shows those sweet looking review stars that we were talking about.


Local Snack Pack features 3 positions that can be easily tracked with our rank tracker.


First, choose a relevant location. The location should correspond to the location of your target audience. For example, if you sell pixel art carpets in Silicon Valley, it is important to know how well you are featured in that area:



Next, add the keyword, URL, and business name:



And best of all, it comes with no additional cost to your quota. It's attached for FREE to our regular local organic rank tracking (which we will get to shortly).


The next tier is less flashy, but still holds tremendous power and potential to draw customers – the extended Google Map results. This can be accessed by either clicking "more places" on Local Pack, or by clicking the "Maps" tab. And if you ask me, it looks even cooler than Snack Pack, and is my personal favorite Google SERP type: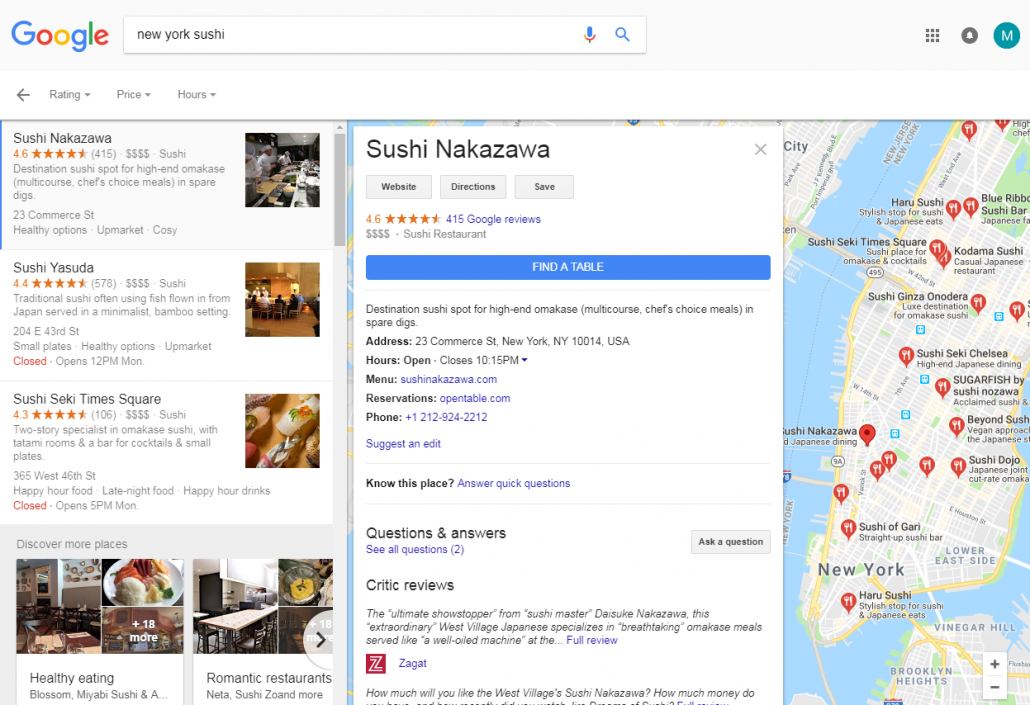 As a sensible consumer, I am more than willing to explore more than just the Top 3 results. I have chosen a business that wasn't featured in the Local Pack, on several occasions, just because I liked what I read in the reviews.


To track the Top 100 map positions, you must choose the same location as you did for SP and select "Local Finder":




*Why tracking the correct location is crucial – because you will not even be in the Top 100 results for someone who is searching outside the relevant area. In this case, a person searching for pixel art carpets in New York, will NOT see your business anywhere on the map (unless he physically drags the map to the Silicon Valley area).


Local organic ranks


Or simply, "ranks", since in 2019 ALL Google ranks are effectively local ranks. You see, EVERY regular search is geo-targeted. You will see the search results that most suit your physical location.


We mention this fact constantly in this blog, and for a good reason. We will drill this information into your mind if we have to, because the myth of the Google rank needs to be dispelled.


Map rankings influence regular organic rankings and vice-versa, so keeping track of both is key. By tracking those two types of ranks, you will be able to monitor your rise following a good batch of reviews of your business.


To track your "regular" organic Google ranks, you will need to choose the exact same location that you used to track those map ranks. In this case – Silicon Valley.


Next, it is highly recommended, that you track that specific local rank with the 5 main ranking layers that Google uses to determine the SERP – desktop, iPhone, iPad, Android phone, and Android tablet.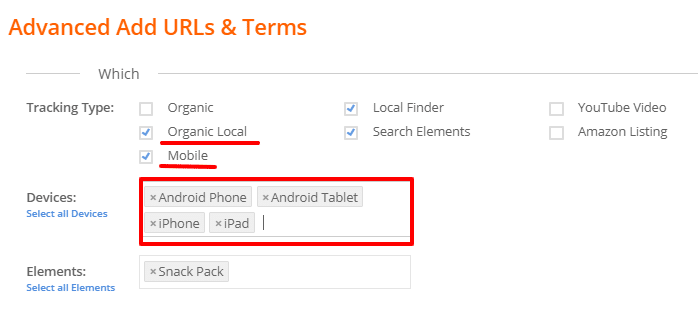 This is how the final tally looks like:



If the "ranking layers" principle is new to you, that means you have a gap in your Google lore that needs to be filled. You can read all about the 5 layers here:



As important as reviews are, they are just one piece of the entire pie of 200+ ranking signals that Google uses. To know if your strategy works or if reviews have any effect, you MUST track your ranks over an extended period.


If you enjoyed this post, please subscribe to our blog to get the latest news, tips and guides on search engines and tracking them.


About PRT – the most advanced SERP tracker on the planet


Sounds like marketing hoopla? Well you are more than welcome to double-check everything you are about to read.


In fact, we ENCOURAGE it.


That's how confident we are.


So here's what we mean by "the most advanced":


DEEP Google rank tracking – the only tool on the market capable of tracking specific Google ranks by exact location, mobile OS type, mobile device type and Google UI language.
Track Google SERP elements – Map results (as mentioned above) and Google video carousel.
Full SERPs – track the ENTIRE Top100 competitors for any keyword.
Widest search engine coverage – Other than Google you can also track Amazon, YouTube, Bing, Yandex and Yahoo!
Global and local monthly keyword search volume revealed for: Google, Bing, Amazon and YouTube.
Hidden Ranks Discovery Tool – discover keywords that your website ranks for that you didn't know about.
The fastest SEO Site Audit Tool – get a FULL site audit within minutes to hours, instead of day

Finally, you can try all of this for ABSOLUTELY FREE for a premium 7-day free trial


And this is NOT some kind of "too good to be true" nonsense. We don't believe in grey fees so we don't ask for your credit card to activate the free trial!


https://proranktracker.com/blog/wp-content/uploads/2019/03/Untitled-1c.jpg
300
800
ProRankTracker.com
https://proranktracker.com/blog/wp-content/uploads/2020/11/prt-blog-1-1.png
ProRankTracker.com
2019-03-14 22:12:21
2019-03-15 03:09:46
How Google Business reviews influence your local search engine ranks