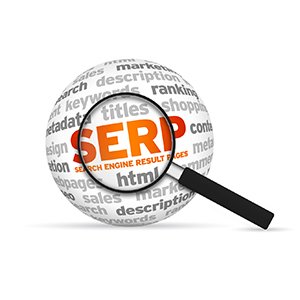 Google Mobile and Desktop SERP Composition and Features– A SERP Tracking Visual Guide
We've mentioned a lot of subjects in regard to SERP tracking for your SEO campaigns, but how is a Google SERP built, and what elements of it can be tracked?
First of all, for anyone new to this, SERP stands for Search Engine Results Page. It's the page that you get from doing a search query. Google's SERP is composed of mainly the organic search results everyone knows and which were there from the start, plus various features added over the years, such as paid results (ads) and Google Snack Pack.
So, today we'll break down the current Google SERP composition and features on desktop and mobile. "Current" because it's a constantly evolving entity and will likely keep changing, adding and removing features. Just as a reminder, this is how a Google SERP looked back in the good old days of 1998 when people still vehemently quoted Seinfeld:
As you can see, there were only organic results (ridiculously easy to rank back in those days). Google's SERP has evolved a lot over the years since its conception and looks almost nothing like it did in its first incarnation. First, there was the invention of AdWords back in 2000, which would show on top of the organic search results and on the right side. It was a novel concept at the time, since it provided targeted advertisements bought by bidding on keywords, making Google remarkably profitable. More additions soon followed, with the inclusion of maps, news, videos, images and shopping results. Google's SERP was becoming more intelligent, more targeted, and it provided higher-quality results for its users — which made SEO increasingly challenging as a result. There is actually a good video about the evolution of search straight from Google's mouth, and you should definitely check it out:
---
Although this article is aimed mainly at SEO beginners and new SERP tracker users, it can be a good and healthy recap to go over, even if you already know all this. The SERP presented is very diverse and will vary depending on the type of search query. Here are a few common examples:
The Desktop SERP – This is simply the SERP you'll see when searching from a desktop device:
In this example, we searched for "Paris", and here are the results:
The Organic Results – These are the classic, regular organic listings everyone knows and strives to conquer, and they're the main target for organic SEO. Rank high in those good old-fashioned organic results, and traffic is almost guaranteed for your website. The organic results have been there from the start and will show up every time for every possible search query. Although constantly shifting over the years, the CTR for organic results (especially those top positions) has always been high and is likely to remain so due to consumers' bias to trust them more than ads. Having said that, it's common knowledge by now that everyone sees different organic results based on Google's personalization factors, such as location, the device being searched from (desktop or mobile), and more…which is why

rank tracking without a SERP tracker is basically counterproductive

.


The beauty of using a SERP tracker is that it can show you how your website really ranks in those organic results by bypassing the personalization filters and giving you as close to an unbiased result as you can get:
The most accurate way to SERP track in 2018

Travel Guide – This is a SERP feature that shows up when travel-related queries are made. If you click on "Paris travel guide", for example, you will be taken to an extended view of Google's travel guide with notable destinations, flights, hotels and other related information. Flights and hotels are commercial links, so hotels and airlines can benefit a lot by being featured correctly on those links.
Top Stories Box – The top stories box will show up with 3 recent news items and a thumbnail relating to the search query. Google will draw this content from "news sites" that meet its guidelines. Clicking the "More on __" will take you to the extended Google News results. It shows up either at the top or in between organic listings, and it's always on the first page of the search results. This feature is mostly informative and doesn't have commercial value in most cases (unless you're a news outlet, publisher, blog, etc.), so not many SEO experts strive to reach this goalpost.
Image box – Many search queries will also feature this on the first SERP showing related images to the search. Clicking the "More Images for ___" will take you to the extended Google image search for that query. It might also show up in a carousel form in the mobile version:

SEO-wise, this carries value to image-related businesses, such as stock photos and photographers, that can benefit from being showcased on the image box for a wide scope of search queries that might not otherwise be commercially viable.
Knowledge graphs – Now a common site in Google's SERP, knowledge graphs were introduced by Google back in 2012 to enhance the user experience in getting immediate answers to search queries and show the most relevant data the user might be looking for. They provide structured, detailed information about the topic, and the goal was that users would be able to use this information to resolve their query without having to navigate to other sites. Their nature is mainly informative, and for the most part, they draw information from a wide variety of sources and leading-authority sites such as Wikipedia. It can be a very lucrative SEO goal; it has a huge commercial potential, as it can showcase whole brands depending on the search query and outshine even the top organic results spots:

---
The Mobile SERP – Mobile SERP is structured differently than desktop SERP, mainly due to screen sizes and because Google actively makes that distinction between the platforms to give more relevant search results. The differences are usually cosmetic to suit the narrower mobile screens, but sometimes the functions of the features might change as well.
Other than having a different SERP structure and appearance, mobile search results will also show different rankings than desktop search results. And that is because Google ranks websites differently for mobile searches, all per their "mobile first" approach. The mobile SERP ranking algorithm depends on factors like how mobile friendly your website is, if it follows the AMP guidelines, and it relies heavily on the phone's location at the moment a search query is being sent.
Needless to say it's more important than ever to have a reliable SERP tracker to distinguish between ranking types and show you how your website ranks on mobile from virtually any location.  We have discussed this extensively in our blog in many articles, but if you only read just one post on the subject, it should be this one:
Why knowing your mobile ranks is now more important than ever before! (+ 5 tips on improving mobile visibility)
PRT is the best SERP tracking tool that can track mobile ranks zoomed in to neighborhood levels, so that you know how your website ranks from any given location and see the exact local impact of your SEO campaigns.
---
Videos – Videos will show up in carousel format for the mobile SERP version. Although not present in the desktop screenshot above, videos often can, and will, show up on the first page
Clicking the videos tab on top of the SERP will filter the results to videos only.
For anyone doing video advertising as part of their SEO/SEM campaigns, knowing your Google Video ranks and how well they rank in the main organic SERP are a must. Other SERP tracking programs can't help you here but PRT can track both for you, and just about any other rank tracking type needed by industry standards, with ease:
All the rank tracking types you will need for SEO in 2018
---
Paid Search Results – Google's main income source is these high-quality, targeted ads relevant to the search query. Traditionally, these results appear in the SERP above the regular organic listings:
Ads used to appear on the right side of the organic listings as well, until Google decided to scrap this feature.  With the advent of Google's mobile-first approach, they have vanished from the mobile SERP landscape altogether, as they were not visible in the narrow screen of a mobile phone in the first place.
Some people puzzled over this seemingly counterintuitive anti-advertisement move, but if there is one thing Google isn't planning on it's making less revenue. All this means is that paid content will now be more "organically" and cleverly incorporated into search results and SERP features, and consumer engagement with ads will not only increase, but the quality of interactions and ROI will likely grow as well. And the truth is, the side ads were never that impressive and engaging to begin with. Sure, they had their CTRs, but they were massively surpassed by "top ads" CTRs, which at times might have even outshone organic listings, since people sometimes mistake them for organic results (even being aware of this, they still look similar to the organic results and are therefore perceived as less "commercial").
Google's Ads work by cleverly targeting search queries and tailoring them to the search results. Google employs a considerable amount of spam-filtering mechanisms, making these ads very relevant for the most part. There are many SEM experts who thrive on using this advertisement outlet. Guides and strategies on how to get great results are aplenty on the internet, and many actually prefer it over organic SEO, as smart use of AdWords strategies can be simpler to execute and yield better results than organic SEO.
Regardless of whether you choose the organic or the targeted ads approach, at the base of that you still need to know which keywords to use and have a solid understanding of the niche you are operating in. Coming up with the right keywords to promote and track for any niche is a challenge, but luckily PRT being the best SERP tracking tool, has two amazing tools that will help you get the best keywords for your niche:

The Ranking Discovery Tool – Instead of inputting a keyword and seeing what websites rank for that keyword, with the Ranking Discovery (RD) tool, you input a website and see what keywords rank for that website! In a sense, it reverse engineers the search process and can effectively discover which keywords rank top 100 for almost any website. You can potentially discover hidden keywords that rank for your websites that you didn't even know about. Using this tool, you can see which keywords are being actively promoted in virtually any niche by any leading website. Not only will this tool reveal which keywords are being promoted, but it will also show on what fronts these keywords rank strongly (i.e. mobile search, rankings by locations, ranks on different search engines, and more). None of the SERP tracking programs out there can make SEO work more effective and efficient for you than PRT!

5 amazing things you can do with PRT's Ranking Discovery tool

The Keyword Suggestion Tool – Just as the name implies, this tool will suggest additional keywords that you should be promoting and tracking. There are many keyword suggestion tools and SERP tracking programs on the market that are actually "keyword generators" that offer arbitrary keywords with little to no value. PRT's keyword suggestion algorithm actually works by examining the current keywords you are tracking, and by drawing from the RD tool, and it will find quality longtail keywords that have an actual search volume behind them and real value!

The Keyword Suggestion Tool – The ideal tool for SEO beginners and experts alike
Choosing the correct keywords to promote relies heavily on knowing the monthly search volume for a particular keyword – information which was once widely available to every Keyword Planner Tool user, until Google's big change to make it visible to only high-paying users last year. That made SEO a lot more challenging for many who were not high-paying users but who still relied heavily on that data, since it showed whether that keyword's promotion was even worth pursuing.
In the wake of Google's search-volume shenanigans, many users were left with no way to know their search volume, so PRT has stepped up to the plate and started providing the search volume of any keyword that is being tracked through the system. Our users enjoy seeing their search volume displayed for every keyword they track with us, for both desktop and mobile SERP.. You can read more on that right here:
---
Reviews – A very powerful and informative SERP feature that shows up under certain organic listings:
Reviews are one of the best influencers of a purchase. To have a good solid review for a product speaks volumes about the product, even without going into technical details of the product itself. People would often prefer a purchase that is slightly more expensive but positively reviewed over a cheap and poorly reviewed product. Those 5 golden-yellow stars are quite enticing and pop from the SERP potentially surpassing much higher organically ranked pages. The wise consumer will go over several reviews before settling on a purchase, and having that review show up on your website, or for your product, will certainly give it a considerable CTR boost.
---
Social listings – This is a SERP feature which shows social network (such as Twitter) content relating to the search query as a 6-item carousel. Want to see President's Trump's latest tweets about N. Korea's famous divine leader? Simply look for Trump on Google, and you will see a summary of his latest tweets on the SERP just below the search query:
Although the main goal is informative content, SEO-wise this feature can also be a powerful brand-building commercial tool if your brand's twitter account is featured on the SERP for a certain search query:
---
Snack Pack – Snack Pack is a very prominent SERP feature we've all come across at one point or another. Business-related search queries such as "pizza delivery", "plumber in New York", "sushi near me", etc., will bring out the Snack Pack and yield 3 local map results to the vicinity of the person searching, often making them extremely relevant and powerful keywords to promote locally. The listings will show the business name, reviews, address and opening hours:
If you click on "More Places" you'll be taken to the top 100 map results which PRT can track using the Local Finder Tracking. On this page each business will have a lot more relevant information showing, from critic reviews, photos of the place, the ability to make reservations online, a link to the website, and more. Following Google's guidelines and being properly listed in Snack Pack while having a rich array of information about the place is a huge plus.
Snack pack is almost impossible to track reliably without a SERP tracker (because you will literally need to physically scout several locations to check for Snack Pack ranks). PRT can track those unique Snack Pack ranks, including the top100 "More Places" listings, and best of all with no additional cost to keyword credits . What this means is you get "free" Snack Pack tracking credits for each local tracking you do with PRT. Talk about comprehensive and in-depth SERP tracking. To read more about how to best track your Snack Pack ranks, check out our feature article on the subject:

PRT's SnackTrack and Locla Finder: The ideal tools for Snack Pack SEO rank tracking
---
Questions and answers – The rich answers featurette will show up to question search queries, such as "Who was the first president of the united states?" "What is the best shoe brand?"
As you can see, both queries will give you an answer, but one is a distinctively commercial answer.
Needless to say that getting your website to be the source of the answer is possibly the highest class of organic rank you can get. The traffic potential is even greater than being featured on top of the SERP, surpassing even the No.1 position in potential. It's truly the next level of organic SEO.
Questions make up a huge chunk of search queries in general and can be very powerful long tail keywords if used correctly. PRT's Keyword suggestion tool is also designed to suggest possible questions based on your currently tracked keywords, and save you some time coming up with questions.
---
Misc. small SERP knowledge graph featurettes and others – there are tens of different direct feature responses to questions and search queries, listing them all would take more than one article. Here are a few examples, you might be familiar with:
Majority of these featurettes are of an informative value rather than commercial, so not much SEM/SEO interest there for most businesses. Although there are exceptions with commercial value such as flights and transportation featurettes that can benefit airlines, travel companies, airline distributors and transportation companies:
---
So hopefully you can understand a little better about how the SERP is built and some of its features. Google's SERP will keep evolving and changing, and no matter where you are featured on Google's SERP, you need to be able to monitor your organic ranks and SEO progress reliably and accurately. You especially need to be able to track the local traditional organic ranks, the mobile ranks, and of course the Google snack pack and map listings.We're not talking just about any SERP tracking programs to do the job. You need the best SERP tracking tool and that is ProRankTracker. PRT, as a leading industry-standard SERP tracker, can easily and conveniently track those ranks for you–both desktop and mobile SERP–and show you unbiased results. Get on board and start SERP tracking properly today!
Our blog features many SEO and SERP tracking articles like this one. Hit that blue 'Subscribe' button to the right and get up to date with the latest SERP tracking lore!
https://proranktracker.com/blog/wp-content/uploads/2017/11/ISS_3222_02310-1.jpg
300
300
ProRankTracker.com
https://proranktracker.com/blog/wp-content/uploads/2020/11/prt-blog-1-1.png
ProRankTracker.com
2017-11-13 15:34:47
2023-08-02 16:23:32
Google Mobile and Desktop SERP Composition and Features– A SERP Tracking Visual Guide