Google algorithm recovery tips and lore
So, you're doing great in your SEO endeavors. Your websites rank fairly high for good keywords and organic traffic flows like the chocolate river at Willy Wonka's factory. But suddenly you wake up to discover a bunch of fat kids were pushed into the river by Oompa Loompas and now the river is clogged, and the chocolate is no longer flowing!
You check out the SEO news sites and lo and behold, you discover the most annoying Oompa of them all happened – a Google algorithm update. Now what? What can you do to recover?
Stick around and let's talk about that. We will discuss the two main reasons for ranks to drop:
Manual Google penalty vs. Algorithm update damage
Before proceeding we recommend you check out our full Google manual penalty list, as well as our full Google algorithm update timeline breakdown:
There are two main differences between the two. The first, is a manual Google penalty is something that is easy to spot, since it will be followed by a manual report in your search console. A ranking drop following an update will not be informed in your search console and will only be discovered as a sudden loss of organic traffic, or in your SERP tracker charts (or any other method you track Google with).
Second difference is, a manual Google penalty is carried out by a human team that went over your website and spotted a clear violation of their quality webmaster guidelines. Ranking drops carried out by the algorithm on the other hand, is purely a machine operation. Google crawls your website, and if something is deemed low quality, spammy, or irrelevant to the search query, the website is automatically demoted in the search index for that search term.
Ranks dropping following an algorithm update is not always fair. Sometimes it's just chaotic collateral damage, even if you are 100% white hat in your approach.
Google is far from a perfect system. It can still be exploited, and it can also unfortunately hit  innocent websites.
The bright side of this is that algo updates can also suddenly boost your ranks and you may find yourself positioned 50 places higher than before in the SERP.
If your ranks dropped and there is no manual report waiting for you in your Search Console, this means an algorithm related drop happened.
Points to consider when recovering from an algorithm ranking drop
The main issue with rank drops due to an algorithm flux, is its sometimes fairly hard to determine why it happened. The reasons are often ambiguous and rarely there is a clear cut explanation, so we can only speculate. Google certainly doesn't have any system in place to inform why an algorithm drops or elevates ranks.
Every time an algo update happens, you read about many cases where SEO experts claim they did everything in a legit way, yet still suffered rank and traffic drops. You may have even experienced this yourself at one time or another.
The Google algo is updated and evolves all the time, and what was considered safe practice at one point may suddenly become outdated and have the opposite effect as the rules change. The ranking rules change all the time, and Google never reveals the exact rules or the exact reason why ranks rise or fall in any specific case. They can give a thousand different explanations and excuses, but the underline always seems to be one thing – having high quality content, structure and links. What defines 'quality' evolves all the time.
Research what recently changed
Your first stop following a drop should be a trusted SEO news site such as Search Engine Journal, Search Engine Land and Search Engine Roundtable to see if any algo updates took place.
Sometimes the changes are ambiguous but sometimes we know with a fair amount of certainty what changed. For example the big "Medic Update" of July 2018 which happened, was very widely discussed and researched. It was known that websites that lost traffic and rankings were in the YMYL niches and had everything to do with Google's EAT guidelines.
YMYL stands for "Your Money or Your Life", and relates to fields that can influence one's health, quality of life, or general wellbeing. Websites that deal in physical and mental health were the most influenced by the update, but also websites in finance and law took hits. EAT stands for Expertise, Authority and Trust – the gauge of content quality as seen by Google.
An older but very famous case of Google updates taking out huge websites is from 2011 when the ranks of overstock.com and JC Penny took a huge hit due to shady link building practices.
In the case of Medic, we had a concrete reason to draw our conclusions. If your website for example dealt in writing nutritional advice and took a hit exactly in the vicinity of the update, it's very reasonable to assume that whatever approach you were using to promote that website just didn't cut it anymore. "Vicinity" because the ranking changes don't have to happen the same day, since it takes time until Google reached your websites.
Maybe you didn't mark that website with schema properly, or perhaps the EAT rating was lacking. In this case of course, recovering would involve completely changing the content to fit a high EAT rating, and this will be a long process.
EATing is good and healthy. You should try to follow EAT even if your content isn't YMYL.
You can find detailed explanations about the topics here, in case you are not fully familiar with them:
Be prepared and well informed
To begin with, you should be following at the very least SEJ, SEL and SER to stay up to date with SEO news. Very often upcoming algorithm updates are discussed there before they happen, giving people some heads up and a chance to be alert. And the comment section of each announcement is also teeming with insights and cases to learn from.
Second, subscribe to Google's main twitter feed as well as their SearchLiaison feed and blog.
Third, if you want to be even more involved and dive even deeper, we also recommend you join a few Facebook SEO groups such as SEO Signals and White Hat SEO Network. You should also join a notable SEO forum, such as Warrior. Warrior is one of the biggest and most active forums on all topics related to SEO and SEM.
Lastly, subscribe to our blog, since we often give specific SERP tracking insights that you will never find in any SEO news site or forum. You may get some golden tips and tricks here that might give you a real edge, since we are unique in our approach in many ways and proud to be the SERP tracker of choice of many prominent SEO experts.
A serious SEO Audit and a change of strategy
If your ranks dropped following an update, it may be a good chance to reevaluate your approach and get a fresh start, as frustrating as it may be. Most likely it means it was just a matter of time, and the sooner it happens the better. If you suspect you lost traffic because of some spammy approach, low quality backlinks or any "shortcut", then this is a good sign you should probably be focusing on creating high quality content instead of hustling for more SEO cheats.
The best thing to do is a full SEO Audit and see how well optimized everything is by the most recent Google's industry standards.
For example if you had a non-YMYL website that lost mobile traffic following Google's Mobile Speed update from July 2018, the next thing to do was to see if your website was properly optimized for mobile and loads fast enough according to industry benchmarks. Recovering in a such a case is much easier than recovering from Medic, since making a website load faster is almost purely a technical job. If you have the technical skills you can make it happen, or worst case you can always pay to get it done quickly enough.
Pro Rank Tracker's SEO Audit tool can crawl your entire website and evaluate its SEO health and potential. You will get an overall SEO score as well as a detailed report that will breakdown any issues you might have:
Even if you didn't lose ranks, if you score low on our SEO audit report, this is not a good sign. It means you are in danger of getting hit by an update eventually, and in general limiting your organic potential of growth.
Try it out for FREE (no credit card details required).
More on our SEO Audit Tool:
Note that if you had everything decently optimized, and still experienced some traffic drops following an update, it can also mean that the drops were not  as devastating as they could have been. Losing 20% of your organic traffic sucks, but it sure is better than losing 50% or worse!
You may need to revamp your content, technical structure, links and keyword strategy, and it will take time to implement and recover (from weeks to months). SEO was once easy and fast, but now it's not an easy job and requires real attention to details.
In fact, it would be good practice to start leading a healthier SEO lifestyle. Always strive to create high quality rich content, follow all the recent EAT guidelines and schema markups, avoid shady tactics and shortcuts, and create a solid mobile-friendly structure right from the get-go. That way you can minimize the chances of being struck down by Google in general (algo or manual penalty). It's a tougher approach but will be worthwhile  in the long run and is a future-proofed way of thinking.
Discover ranking changes as soon as they happen
To begin with, you need to track all of your current websites on Google correctly. To do so you MUST be familiar with all their current ranking layers, which you can catch up on here:
Once you track all your ranks correctly with Pro Rank Tracker, you can set up notification triggers to let you know as soon as ranking changes are detected.
Here are the triggers that can be set:
We update your ranking data at least once a day and one additional time on demand, so we will catch those changes on time! More on setting up triggers with Pro Rank Tracker:
Finally, you can follow your entire niche using our Full SERPs Tool in a single chart, and see how your competitors were affected when an update happened: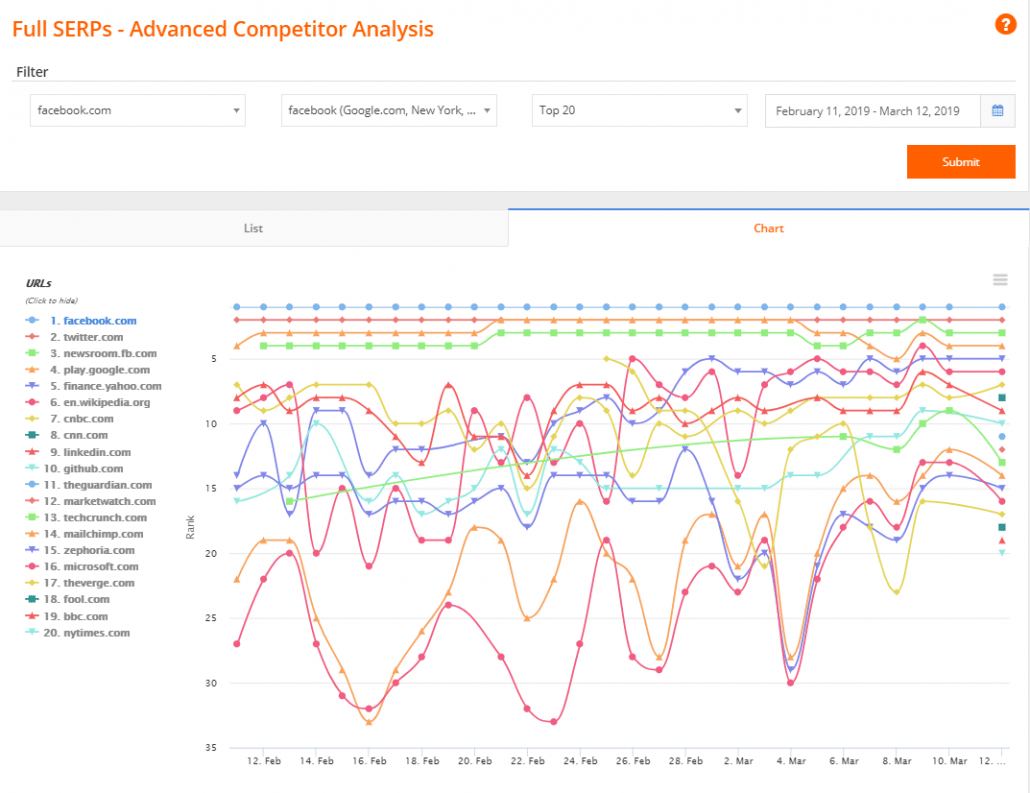 You can try it all for FREE right now with our 7-day premium trial (no credit card details needed to activate).
Summary
Make sure you follow all the main sources of SEO news, to hopefully get a heads up on an impending big update that might be relevant in your case.
In the event of rank drops make sure you run a thorough SEO audit and inspect everything that is suspected to have changed in the update (content quality, mobile speed, etc.).
Re-optimize if necessary.
Set up notification triggers to be informed as soon as sudden ranking changes are discovered.
Track your Google ranks correctly with all the proper and relevant indexing layers.
Future-proof your approach: Follow Google's guidelines and apply a proper SEO strategy right from the start!
We'll finish with a positive note. The chatter on SEO forums have gradually changed over the years, from white hat experts complaining about losing to shady black hat tactics, to black hat experts being exposed and penalized and solid SEO strategies getting ranked high. The future looks bright for hard working SEO experts and high quality content so do not despair!
About Pro Rank Tracker, the most advanced SERP tracker on the market
PRT is an industry leading Deep SERP tracker. We are the only one currently able to track all of Google's different types of ranking layers. We can see specific Google ranks no one else can manage:
Mobile vs. Desktop ranks (this one is industry standard by now, and most tools offer this option).
Exact location geo-targeted ranks – we can show you how any website ranks in specific neighborhoods and airports! This is a must have feature for any local SEO campaign.
See Google ranks as determined by a user's default UI language.
Deep mobile rank tracking – See how you rank on mobile by OS type and mobile device type (phone or tablet).
Track specific Google SERP elements: Video Carousel and Local Pack (Snack Pack). Including the element's position, as well as the inner position within the element itself.
Track Google MyBusiness positions from any location with our Local Finder.
Check out the full breakdown of these ranking layers.
You can experience accurate rank tracking like never before for FREE with our premium 7-day trail (again, no credit card details are required to activate it, and no auto-renewal traps).
The trial also includes access to all of our premium features:
Track YouTube and 4 additional search engines with all of their respective local ranks: Yahoo!, Bing, Yandex, and Amazon!
More than 12 types of ranking reports, fully customizable with no limits on quota.
100% white label – set up your logo and company details on all of our reports and features including the tool itself (in Sub-Accounts).
A fully detailed SEO Audit report.
MyRanks – a white label app embellished with your logo so your clients can download and view any ranking data you chose live.
https://proranktracker.com/blog/wp-content/uploads/2019/08/INH_64254_00783b.jpg
300
800
ProRankTracker.com
https://proranktracker.com/blog/wp-content/uploads/2020/11/prt-blog-1-1.png
ProRankTracker.com
2019-08-06 22:38:55
2019-08-06 22:38:55
Google algorithm recovery tips and lore