All the rank tracking types you will need for SEO in 2018
SEO isn't an easy business, considering how advanced and accurate search engines have become. You need to look beyond keyword research to see the other factors that affect your website's ranking. Not only do you need to choose the right keywords, take care of quality backlinks and make sure everything is up to date per search engine guidelines and your SEO strategies, but in addition to that, you also need to figure out what types of ranks to track for your websites for the most relevant results. We talked a lot about what a rank is and how there's no such thing as a single rank for a keyword. You can go over past articles on those subjects here:
How to get the clearest and most accurate picture of your Google ranks
The Ultimate SERP tracking guide 2018: How to add the right keywords for SERP tracking
Add to the mix of SEO necessities all the misconceptions and confusion surrounding types of ranks, and you can potentially end up tracking the wrong ranks. Knowing how to track your progress with a high degree of precision and quality using a SERP tracker is one of the basic skills needed for SEO in 2018.
The question you need to be asking is not "what is my website's rank?", but rather, "what is the most relevant rank of my website?"
To know if your strategy and website optimization have any effect, you must be able to track your relevant ranks and progress using a reliable and accurate SERP tracker. More than just a keyword rank tracking software, what you need is a rank-tracking tool that provides comprehensive and multidimensional data of your SERP rankings.  You may need to conquer many challenges before you can successfully rank a website, but at the very least, you have SERP trackers to give you a clear picture of your website's stats in the various search engines.
Today, we will try and clear the fog on that subject – how many types of rank tracking you can accomplish with Pro Rank Tracker and what the differences are. So without further ado, here is a COMPLETE breakdown of all relevant rank tracking types in 2018 you can accomplish with PRT:
Organic Non-Local Desktop Rank Tracking
Google knows the type of platform you use to search its engine and gives you search results accordingly. When you use this tracking type to track a keyword for a given website, the results you get will not be geared towards any specific location, but rather show you the general rank people of an entire country get when searching from a desktop device. This was the most dominant and only rank tracking type in the younger days of Google when mobile personalization and geo targeting weren't around and everyone saw about the same ranks when searching for a keyword. This rank-tracking type is usually what most people who aren't familiar with SEO think they should use to track their local business website. It's also the reason why many still use outdated keyword rank tracker tools that only look at one of SEO's many facets.
This is very important to note – In 2018, EVERYONE who searches the internet sees their own personalized rank which is HEAVILY influenced by their location, and for that reason tracking for Organic Non-Local Desktop Ranks is an ambiguous and an inaccurate measurement of ranks for local businesses — the majority of SEO clients — so in most cases it will be irrelevant. If you have a bicycle rental service that serves the New York city area, you only need to know the ranks that people from New York city see.
This type of rank tracking is becoming more and more deprecated as the world of SEO is centered around Mobile-Local-Social, and it's become more valuable to know targeted rank types than a general desktop rank.
So, why do SERP trackers still have that option? Some rank tracking tools simply haven't updated their algorithms, while PRT keeps this for specific high-end use cases. One example of such a use case is for major SEO campaigns that rank highly lucrative and competitive keywords for overall niche world dominance. As the best rank tracking software out there, we cater to all kinds of clients that aim for different goals, whether they want to dominate the local scene or be at the top of all major search engines.
If you still decided to SERP track for this rank type, you would simply need to choose a search engine (no need to specify a location):
However, note that every search engine in this type of tracking is still only limited to a country and will show you results from that country (Google.com ranks might be different than Google.gr ranks):
Google.com – Google.com rank is actually the rank most people from the US get.
Specific Country Google – (i.e. Google.fr, Google.co.uk) will give you results from those respective countries.
Yahoo! and Bing – Although distant competitors to Google, these search engines still enjoy considerable traffic, they have the advantage of being easier to optimize for, have far less personalization than Google, and geo targeting is less of a ranking factor. If you choose to track yahoo.com and bing.com, the same principle applies: it will show the general rank from the US. Like Google, Yahoo! and Bing also have country-specific versions, and tracking for those countries will show you results people from those countries get when they use these search engines. If you specify yahoo.fr as the search engine to track, for example, you will see results that people from France searching on Yahoo.fr will see.
Yandex.com and Yandex.ru – This is the biggest search engine in the world for Russian speakers. Since Russian-speaking users are spread out across the world and estimated to number 260 million, it's no wonder SEO for Yandex is a whole field in itself and a very useful skill to have in one's arsenal. Yandex users are spread all across the world, not just in Russian-speaking countries. It is, in a sense, the "Russian Google." For anyone doing Yandex SEO, PRT can track those ranks for you easily.
Organic Local Desktop Rank Tracking
This shows you the rank that people from a given location will see. This is the current and most relevant use of a SERP tracking method for desktop ranks, since everyone is geo targeted, and people from different areas will see different keyword rankings for the same website depending on their location.
Exact location rank – The PRT algorithm has the most advanced local rank-tracking algorithms on the market currently and can track ranks from exact zoomed-in locations, such as neighbourhoods and small towns, virtually anywhere in the world. This is why we're the best rank tracker tool in the market! With this feature, you can monitor ranks for local SEO with the highest precision on the market. You can see the different ranks people get for the same keywords just miles apart! SEO will only become more local oriented, so this is the rank tracking of the future. If you're promoting a local pizza place, you will be able to see the ranks people see in the delivery zone, which is as relevant as it can get.
Area rank (Near) – This is a broader rank-tracking algorithm showing the ranks most people from a larger area, such as a city, will get. It's the traditional application for medium-sized websites. Choosing to track several different areas and analyzing the results will reveal a much broader picture of how well you rank across the board and allow you to form a more professional, targeted SEO strategy.
To further read and understand the differences between the two and the amazing benefits of having exact location ranks, check out this article:
The most accurate way to SERP track in 2018
Mobile rank tracking
Possibly the most important rank tracking type for your business. Mobile searches are even more geo targeted than desktop searches to give the best search results, and therefore result in different ranks than desktop ranks. It's not uncommon for a website to rank differently on mobile vs. desktop searches (which is why it's important you track both!).
As you may know, Google officially announced its mobile-first approach back in 2016, making mobile SEO essentially mandatory for all websites, meaning (at the very least) your site needs to abide by Google's and various other guidelines of keeping your website as mobile friendly as possible, as it is bound to affect your overall rankings across all platforms. As it is well known by now, mobile searches outnumber desktop searches, and this ratio will keep growing. To be able to track mobile ranks reliably, you must use a SERP tracker. And we're not talking just about any rank tracking tool. While there are countless SEO tools online, only ProRankTracker can give you accurate mobile search engine rankings and other advanced web ranking data that you can use to improve your SEO strategies.
When tracking with this method you have to specify a location (either exact or near) as well as a search engine and a device type. Ranks may vary based on the device the user is searching from, which is why PRT can differentiate between those rank types:
More about mobile ranks and Google's mobile-first approach:
Why knowing your mobile ranks is now more important than ever before! (+ 5 tips on improving mobile visibility)
Language of UI influence in rank tracking
Personalization is so rooted into the core of every search that even the UI language of the user's Google account may influence the search results they see. So if you want to get even more accurate, specific ranking results, you should specify a language. For example, if you target English speakers, then it would make the most sense to specify English as the UI language, since that is most likely their UI's language by default. Specifying UI language in your tracking will give you even more specific and targeted results!
Snack Pack Rank Tracking
Snack pack is defined as the top-3 map results you get on the first page of the Google SERP. Everyone who searches Google has encountered the snack pack:
It shows up on mobile and desktop search and is 100% geo-targeted, showing results in the vicinity of the user's location. Snack pack results are their own unique ranks and are separate from the organic search results. They have their own composition, showing details like the business name, address, phone number, operating hours, and most importantly – user reviews. I'm sure that some of you found yourselves on more than one occasion completely ignoring the organic results and going straight for the snack pack results to see the best-reviewed business closest to you. The business you ended up choosing might not have even been top 10 in Google's organic search results, but being listed on snack pack gave it a remarkable edge.
Extended top 100 Snack pack – If you press "more places" in the snack pack, you will be taken to a larger map showing the top 100 results in your vicinity. The structure is a more extended view of snack pack, showing even more details of the businesses. The extended top 100 results are very important for local SEO, and it is crucial for a local business to show up at least in the top 100 extended page. Use PRT's Local Finder Tracking to see how local websites are doing in snack pack and in the extended view.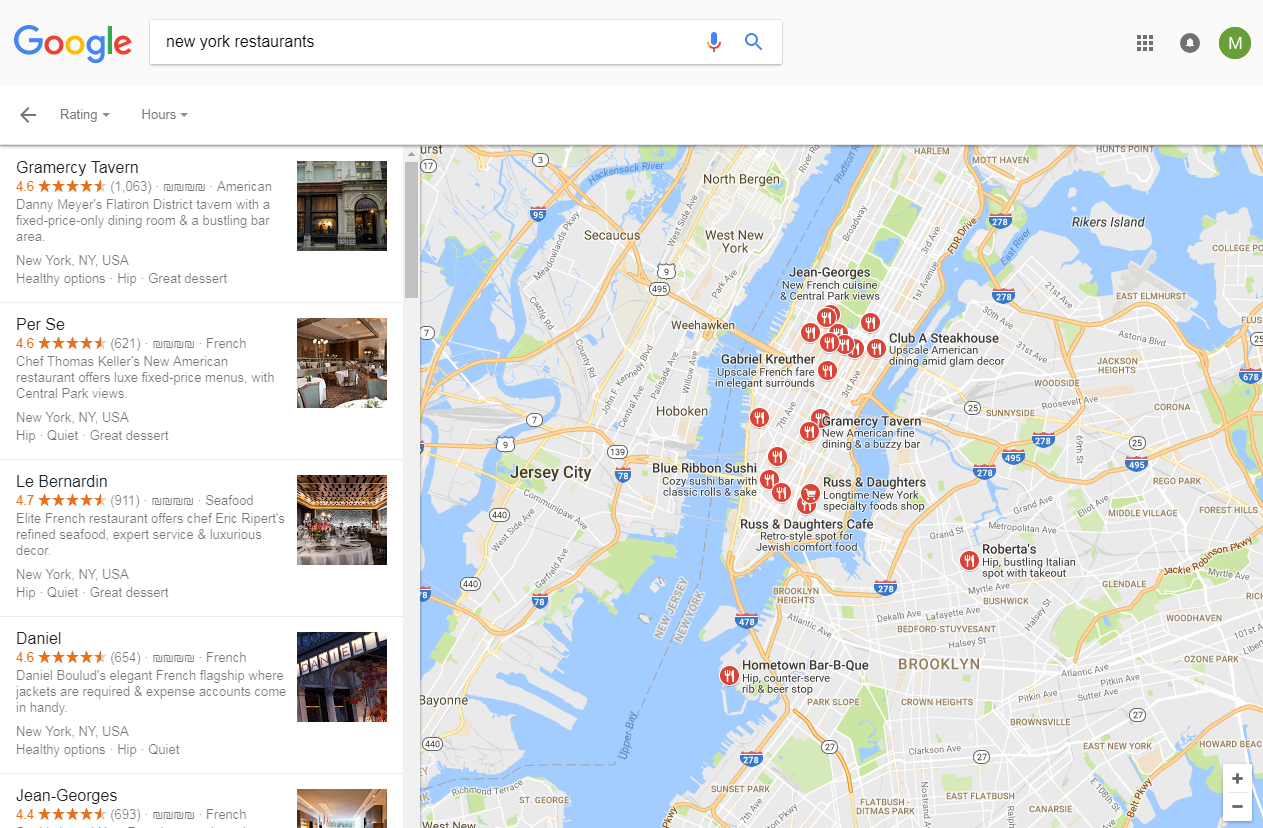 We did an in-depth article on how to best track snack pack ranks with PRT, and you can read up on that here:
PRT's SnackTrack: The ideal tool for Snack Pack SEO rank tracking
Google Video Page Rank Tracking
This is the results page you see when you click on the "videos" tab on the main Google SERP:
Unlike Google's regular search results, this section lists only videos, and for that reason the ranks on this page can differ significantly from organic ranks. So, if you promote videos or use them as part of your marketing and SEO plan, you need to be able to track how your videos rank on the Google Video page.
YouTube
YouTube is the second-largest search engine in the world that just happens to be owned by the largest (Google). Although it's a search engine for videos only, it's still a search engine with its own unique ranking algorithms and quirks. Although YouTube algorithms are relatively obscure to SEO experts, there is a great deal of information on YouTube SEO, and people are always figuring out new methods to influence YouTube ranks and be favored by their algorithms. YouTube marketing and SEO is a huge business, and monitoring YouTube ranks is an important gauge to see what works and what doesn't:
**Note that you can track within YouTube and also how your YouTube video ranks in Google (it will show up on the SERP as an organic video result)
Amazon
Amazon is the largest e-commerce website in the world, and it's also the largest search engine for e-commerce. It only keeps growing and improving – soon with AI-powered drones that may or may not subjugate humanity to their will. When the average consumer wants to buy something, chances are they will look it up on Amazon first and not on Google. Usually, Google will either be a second attempt if they can't find what they are looking for, or be used as a source of additional reviews and price scouting as part of their market survey. Being the search engine that it is, Amazon has its own unique ranking algorithms and criteria for listing one item over the other. This search engine is highly competitive so you need a daily rank tracking software to monitor frequent changes in the rankings of your products. PRT can track how well your product is doing on Amazon easily:
---
Those are the rank-tracking types available to you with Pro Rank Tracker. SEO takes time to get the hang of, and adding the complexity of what a rank is only adds to the challenge. We know that mastering the Google Search Console or keyword research tools can already be tough, but these are the challenges you have to face to make your website land on the first page of SERPs. SEO might be challenging, but it doesn't have to be ambiguous. If you spend all that effort and time needed for SEO (and that's not even mentioning the upkeep of a business, chasing clients and developing as an economic entity), at the very least you need the most relevant and accurate results you can obtain on the market. Naturally, Pro Rank Tracker can track all the rank types mentioned above with 100% accuracy and with ease. We're more than just a Google rank tracking software because PRT is designed to track ranks from all major search engines. So, if your current tool lacks the needed capacity in today's industry standards, get on board with PRT and get to know your real ranks. Take advantage of the most advanced and best SEO rank tracking software today!
Now that you know of the different rank types, the next article will be about the SERP page composition of search engines. So enter your email and hit that 'Subscribe' button on the left side of the page, and stay tuned!
https://proranktracker.com/blog/wp-content/uploads/2017/11/03A10000b.jpg
300
300
ProRankTracker.com
https://proranktracker.com/blog/wp-content/uploads/2020/11/prt-blog-1-1.png
ProRankTracker.com
2017-11-09 18:37:37
2022-12-06 12:04:17
All the rank tracking types you will need for SEO in 2018