A more visually centered version of Snack Pack is soon upon us? Here's what you need to know!
A picture is worth a thousand words, as the beaten old saying goes, but that was coined before the boom of capitalism and the age of advertising. In truth, one piece of good, enticing visual content can deliver much more than 1,000 words ever could.
What does that have to do with Snack Pack? Well, it has everything to do with it. There might be a new version of Snack Pack coming soon to mobile devices (and possibly desktop). And the way it will be designed will give bonus points to aesthetics and visual appeal.
If you're surprised to hear there's a new Snack Pack version, that might be because you haven't seen it yet. As usual, when it comes to such a huge platform as Google, updates like this are not released all at once, but in sections, so some of you might have encountered it already, while others will encounter in the future, if it is indeed an update and not some sort of tests they are running.
The main difference between the old Snack Pack and the potentially new one is the focus on visual appeal.
Old version: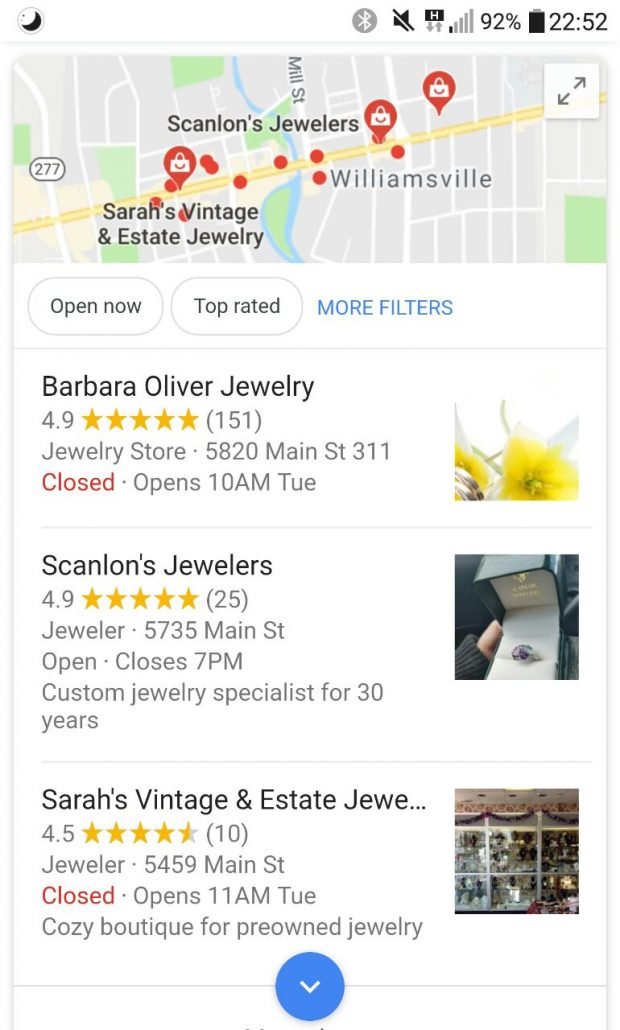 While not officially confirmed by Google yet, here is what the soon-to-be-new mobile version might look like, as first discovered by Phillip Barnhart:
Google's local pack results are a star of local SEO and a coveted position by all SEO professionals. It's eye candy that shows up on the generally "boring" SERP above the regular organic search results and easily outshines them in many cases. The benefits are plenty, but the main ones are the ability to see businesses that are physically close to your current geo-targeted location. The 5-star reviews that are visible about a business speak volumes to a potential customer, even without going into much detail. And the ability to access instantly relevant information about a business without going to the actual website, such as operating hours, contact info, and (for restaurants) even the ability to reserve a table, is highly convenient.
Start thinking photogenically
Regardless if it ends up being just an experiment and not an official change, the current Snack Pack still features images even without the visual boost. Our visual sense is very acute and sensitive. We shop with our eyes, it plays a major role in the partners that we choose, and we even taste with our eyes first, as can be seen in this delicious picture:
Marketing with pictures and videos have been proven on countless occasions to be far superior to just using text (even though a well-formulated clickable title is also very important). So, start hiring those savvy graphic designers and photographers to make your business not only show up on Snack Pack, but also steal the show!
Tracking Snack Pack
If you've been following our blog, you know we've discussed Snack Pack on many occasions. But if you haven't or simply aren't familiar with it yet, the first and most important thing you should know about Snack Pack is that they have their own top 3 ranks.
These ranks are unique and SEPERTAE ranks, completely different than the regular Google organic ranks. And as such, they should be tracked separately.
Snack Pack is considered a SERP element, and that means it follows its own set of rules and can be influenced by different strategies than regular organic SEO. There are plenty of SEO guides to be found about Snack Pack, but here is what you should know from a SERP tracking perspective:
Snack Pack relies exclusively on geo-targeting. It's the only type of rank that's 100% local and is almost entirely influenced by a user's location. Which means that to track it effectively, a SERP tracker needs to be able to zoom in on Google's geo-targeting filters and see the ranks from any geo-targeted location that Google has.
Not every SERP or rank tracker on the market offers Snack Pack rank tracking, but luckily we do, and with 100% geo-targeted accuracy! Here's how we do it:
Simply add the EXACT location that's relevant for the business in question. You will be able to see if your business shows up on Snack Pack for users from that location and how it is ranked (A, B and C mark the top 3 spots).
But wait, there's more!
Also see the extended top100 results with our Local Finder feature: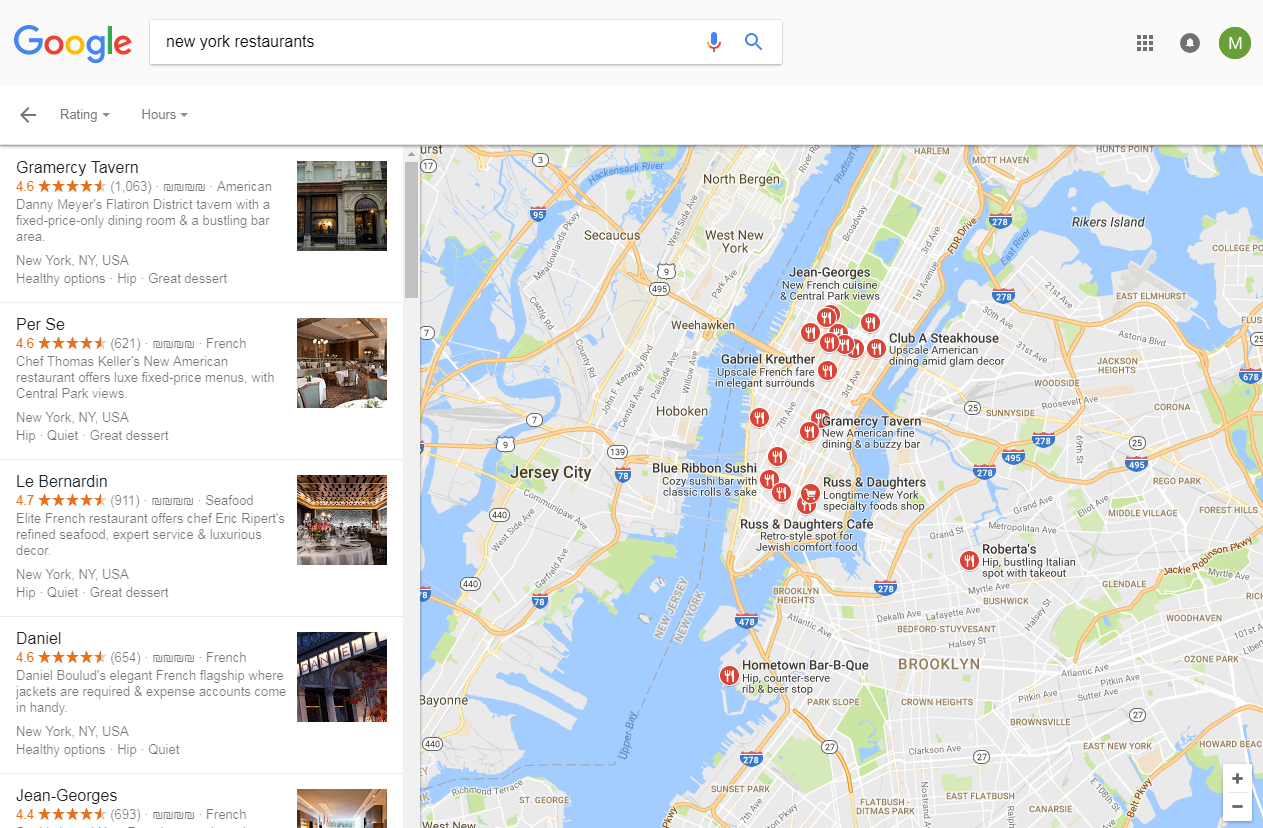 By adding this to your rank tracking, you'll also be able to see how your business ranks in the extended map results for users from that exact same location. Since many people choose to click 'more places' to see more results, it's very important to add that to rank tracking. You might not rank in Snack Pack, but you might be in the top100, which also counts.
And best of all – both will cost you just ONE credit from your quota!
Here is how Snack Pack and Local Finder results look in our data table:
Finally, if you want to get into even more details about Snack Pack tracking, check out our full feature article about it here:
Google has been very local-SEO oriented for the past decade, always striving towards minimalist aesthetic designs, and their upcoming revamping of Snack Pack shows the continuation of this trend. Results are only about to get more and more minimalist, geo-targeted, and personalized. You have to get on board with a SERP tracker that can get you those accurate and targeted ranks, instead of made-up ranks that show you misleading results.
If you found this article helpful, be sure to subscribe to our blog, so you won't miss out on any important Google and search engine news!
---
About PRT
PRT is currently the most advanced rank tracker on the market by a long shot, offering the widest search engine tracking coverage on the market for the most affordable prices.
We pack a whopping 6 rank trackers in a SINGLE tool, with the ability to track with 100% accuracy the following search engines:
Google – including specific SERP elements such as Snack Pack, Map results, and the Video Carousel
Bing – with all international versions included
Yahoo! – with all international versions included
Yandex.com and Yandex.ru
Amazon – with all international versions included
YouTube
We are the only one offering future-proofed rank tracking technologies suitable for 2019, so we can track virtually all of Google's highly advanced personalized ranking filters. And we update your ranking data at least once a day and up to an additional 3 times on demand!
Don't believe us? Here are our monthly plans, which include the ONLY entry-level SERP tracking plans for small businesses on the market, starting as low as $17 a month!
And you can even take us out for a truly 100% FREE 7-day trial with all features fully unlocked at your disposal. No credit card info will be required and no shady auto-renewal traps are set because unlike the rest, we have full faith in our tech and quality and don't feel the need to trick anyone into joining us!
Get a monthly income bonus!
After you've seen what we are all about, help others discover a truly great rank tracker that uses no BS tactics, and link to us via our highly acclaimed affiliate program. You will have a 20% recurring monthly commission for the ENTIRE duration of the referred account!
https://proranktracker.com/blog/wp-content/uploads/2018/11/ISS_10645_02113.jpg
300
800
ProRankTracker.com
https://proranktracker.com/blog/wp-content/uploads/2020/11/prt-blog-1-1.png
ProRankTracker.com
2018-11-19 21:52:56
2022-04-19 08:54:26
A more visually centered version of Snack Pack is soon upon us? Here's what you need to know!