9 Tips and Guidelines for High Quality Customer Service and Satisfaction
Is your customer support up to par with industry expectations? Time for some harsh truths.
Virtually all our users have customers of their own to take care of. Achieving high levels of customer satisfaction should be the priority of any business that wants to grow.
Happy customers are one of the best growth engines. They provide leads and can help you grow with the most powerful marketing tool there is, and  the most ancient one – word of mouth.
And if you underestimate the power of word of mouth, here's something for you – it is stronger than ever! A recent research by RewardStream, found that customer recommendations are the number one generator of consumer purchase decisions. This was discovered at every stage in the purchase stream across 10 product categories.
Angry customers on the other hand can harm a business. By leaving negative reviews, dropping your services altogether and creating negative feedback for your brand and business by word of mouth. And the strongest tool of all is in the hands of a vengeful customer – social media shaming.
Now that does not mean you have to be afraid of customer dissatisfaction and completely disregard your side of the story. Because as we all know, sometimes there are cases where you did everything to the best of your ability and yet the client is simply problematic with unrealistic demands (we will also discuss the best approach to handle unjust negative reviews).
Because we are constantly blasted with choices, brand loyalty is harder to achieve today than ever before, and this is a cold hard fact. People in general are taught to be flaky and not commit unless they are absolutely charmed by the service.
American Express has found that nearly 60% of customers will shop for a different brand, just to see if they get a better customer service experience. And 89% will bounce to a direct competing brand if they perceive a negative customer service experience.
You cannot simply lose clients by being nonchalant about this topic, because your competitors are waiting behind the corner with possibly better customer service. Not only that, but if they hear that customer service is the reason for the bounce, they will most likely make an extra effort to be receptive and helpful.
This isn't science and many times it comes down to simple misunderstandings. So, this little guide does not have some magic formula that will always keep your customers satisfied. But it is a few simple general guidelines and tips to follow, and hopefully increase customer satisfaction.
Get that team of customer support reps that will stare at you uncannily every time you are in the room! A dream come true.
1. Being proactive versus just being reactive 
This is the difference between just passive customer service and the evolved next level version – Customer Success. In SEO this means ultimately more money for you and YOUR success down the line.
Customer success is a blooming field in recent years and there are experts and positions that are solely dedicated to customer success. Having solid customer support that engages and handles problems and issues after they appear, is the base, and is reactive. Being proactive is taking it to the next level, reaching out to customers and fixing issues when you spot a problem, instead of waiting for them to complain.
If you get a frequent complaint for example, being reactive is only handling the complaints. Being proactive is fixing the cause of the complaint, thus avoiding future complaints.
2. Being available
People hate to feel like they are talking to a wall. This leads to feelings of helplessness and an eventual bounce to a competitor. Having several routes of communication is key. If you are only available by phone during certain hours than this limits your availability. Offer 24/7 ticket support in addition, and you can offer support for people who are busy and might only have time to write a ticket.
This goes for other fields as well. Being available also means being available to take on new clients and making sure that you have a constant stock of popular products. Implement a system to recommend alternative products if a product is out of stock. Reach out to customers directly if you need to, but make sure they are not leaving your business empty handed and disappointed!
In 2014, Walmart said that they were losing almost $3 billion in revenue as a result of items being out of stock.
If you cannot  take a client, then recommend a friendly colleague that you trust. This will increase trust and the customer might return or recommend you to others, and your colleague will return the favor if he is unavailable.
3. Initiate follow-ups
This is another way of being proactive instead of only reactive.
An email advertising more products/services and blatantly upselling are predictable and annoying, so this is not what we mean. An email saying, "Thank you for your purchase, and we are here to help with any questions you might have", will leave a far better impression and will show customers you are more than about money and sales.
Do not be afraid to ask for reviews, referrals and recommendations in your follow-ups if you see your customers are satisfied and happy! This is how you generate leads. Most people will be happy to help you if they had a positive experience and they like your service or product.
4. Keep improving your customer service
Providing customers with a high quality product or service will be a huge selling point for word of mouth.
People love to recommend good quality because it buys them social value as well. So not only will they benefit directly from your product or service, but also in other indirect ways and sort of share credit for the existence of your brand.
In SEO this means always evolving your skills and methods and following the latest   search engine updates and news, since Google evolves all the time as well. And the evolution of search engines is rapid to say the least; methods that worked in 2016 might not be as effective in 2019 and beyond.
One way to stay ahead of the curve in SEO is proper rank tracking. If you follow our blog you will see many guides on search engines and SEO, so subscribe if you have not done so t already.
5. Keep your employees happy
This is like taking care of the source code of your company. Employees are the backbone of your company, and they are also the face of the company. Happy employees lead to good customer service, because they see THEIR company as a second home and want it to succeed.
Angry vengeful employees however are notorious for providing poor customer service, as they want to undermine and damage their place of work.
However, this goes beyond keeping employees happy. From the start you need to make sure you are hiring high quality people and not psychopaths. Easier said than done, but a guideline to follow none the less.
6. Be human
Another proactive approach is having more human representatives and less automated responses. People want NEED to feel they are being taken care of by a fellow human and not a chatbot.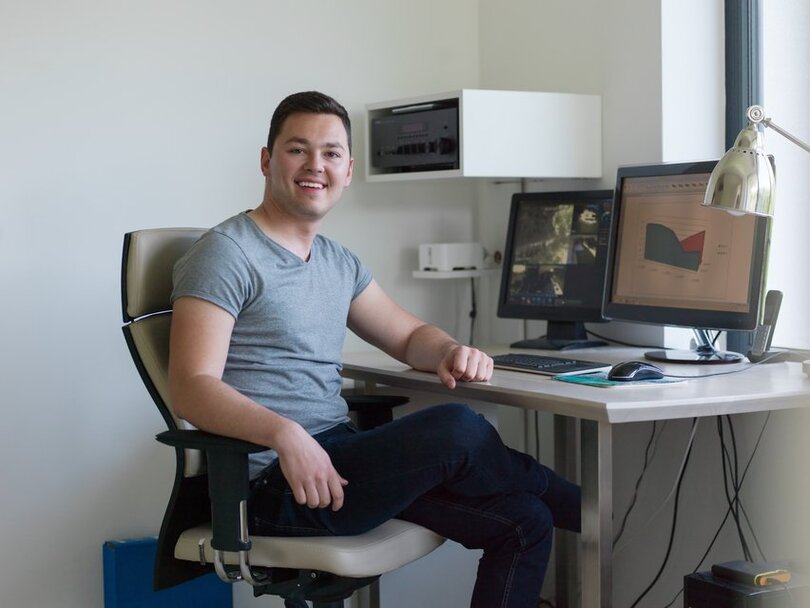 Fig. 2. Be human and not a chatbot
Be human, like this perfectly human person, doing human things, like looking at you approvingly for taking his picture.
It's true that customer service A.I. keeps getting alarmingly better, but most still fail the Turing Test. Most people are naturally good at the Turing testing and will sense the uncanny valley of A.I. customer reps from a mile away.
More abstract human skills, like empathy and creative "out of the box" problem solving are still a few years away for A.I. to handle reliably. So even if you implement a chatbot to handle basic needs, you still need to keep human reps ready, to handle the more complex and personal issues your customers might face. Areas such as anger at latency, or some sort of dissatisfaction that can be addressed by simply being understanding.
We wrote a whole article specifically about the topic of chatbots vs. human reps, so definitely give it a read as well:
Why you should NOT fully rely on chatbots (for now) on your websites, according to new survey
7. The issue of speed and latency
Tech is getting faster, and patience is shorter than ever before. This impacts customer expectations and you as a business must adjust, or you will be abandoned like a steam ship in an age of streamline cruisers that offer free Wi-Fi and foot massage.
Try your best to address questions and complaints as quickly as possible. People hate to be left hanging and get a response after two days, hurting their own biasness and workflow.
And on the side of development, make sure you are up to industry standards as far as latency is concerned (at least that your webpages are loading fast enough on mobile devices).
In case you want to read specifically about the topic of latency and speed industry standards, here are two articles for you about that:
The Need For Speed and the Decline of Patience
The 3 Second Bounce: How Webpage Loading Speed Impacts SEO and Revenue
8. Embrace negative reviews and handle with candidness
Negative reviews can be a blessing in disguise. They allow you to showcase that your company is complaint friendly and that you take full responsibility for the customer experience. Also, perfect reviews across the board are very suspicious. People need to see that you are not perfect and that you can handle your imperfections face on, to truly feel safe.
If you spot negative reviews, simply answer it by acknowledging the complaint and taking responsibility. Ideally offer a solution or an apology if you deem it necessary (you can also just say that you are always striving to improve etc.). If there is only a hanging complaint with no response, it will seem one sided against you. If there is an answer, people will get to see there are two sides to this and can make up their minds in a more informative way.
With the right respectful response, a negative review will work in your favor!
As for the bad case scenario, when you think the review is fake and purposefully damaging with no justifications, make sure to see if the review directory is offering a means of reporting fake reviews. If no system like that exists, write an email to their customer service and demand the removal of the fake review.
Our guide on reviews:
The Magic Marketing Power of Customer Reviews
9. Learn from us – how we manage to keep high standards of customer service
One of the main reasons we grew so much by word of mouth is by being customer success centered from the beginning. We practice what we preach.
Fig. 3. We maintain a high standard of customer service
We made it our goal to make user experience the center of our attention from Day 1. Everything we have developed is centered on providing the highest quality customer experience on the market. We understood early on that your success equals OUR success.
We have a huge knowledge base

– we offer guides on how to use our tool that includes video tutorials.

100% White label

– we made sure all our features are white label, so that you can showcase YOUR logo and company details and keep us behind the scenes. At the highest level, you can replace PRT's logo with yours on the tool itself!

Extreme Availability

– we are available via live chat, 24/7 support tickets (that we answer usually within a few hours), email, Facebook, Twitter, and LinkedIn.

Skype support

– We take it even a step further and offer free training sessions.   Even if you are new to Pro Rank Tracker and only use our free 7-day trial, we still make Skype available. We will guide you every step of the way to make sure you are using everything correctly.

Speed

– We make sure that we are fast – We get your ranks within a few minutes. Our Audit tool is one of the fastest on the market and we generate your ranking reports almost instantly.

Blog

– we keep a blog for more than just SEO, and if you are a frequent reader than you already know that we focus on content quality, and make sure to constantly update our blog with guides and tips (subscribe if you haven't already!)

Human reps

– we currently do not use chatbots at all. Until a chatbot can emulate empathy successfully and pass a Turing test reliably, we will stick to humanity, thank you very much.

Dedicated account manager

– Every enterprise user gets their own dedicated account manager.

Always evolving and improving our tool

– Google and industry standards change and evolve – for example – we are the first one that started offering neighborhood level geo-targeted rank tracking, and we are currently the only ones offering mobile OS levels rank tracking.

Respecting our affiliates

– we offer our affiliates a 20% recurring commission for the ENTIRE lifetime of the referred account. Check out the full Affiliate Plan details

here

.

Ease of migration

– you can migrate from and to Pro Rank Tracker with ease by using our Bulk Upload feature.
Conclusion
High quality customer service and a customer success approach will lead to YOUR success. Satisfied customers are one of the best organic business growth engines that exist. You grow by simply being perceived as a good service provider. What can be better than that?
By the end of the day it takes 2 to tango, and both sides need to be satisfied. Strive for excellence and the good feedback will win over the bad. And if there are malicious fake reviews that plague your business, be sure to do some damage control and take care of those quickly and not leave them hanging.
And if you enjoyed this post, we would love it if you share it. Also, if you have your own customer satisfaction tips, please share them in the comments below!
Get your hands on a REAL free 7-day trial with all premium features unlocked
No credit card details required either!
We let our tool sell itself. So start here!
We are one of the few online services that do not take credit card details on our free trial and auto-renew, so rest assured you are signing up for a clean service!
Finally, make sure you are subscribed to our blog, because we will be publishing more about the topic of customer service. Advising how to handle feedback in the age of instant gratification.
https://proranktracker.com/blog/wp-content/uploads/2019/04/9-Tips-and-Guidelines-for-High-Quality-Customer-Service-and-Satisfaction.jpg
310
800
ProRankTracker.com
https://proranktracker.com/blog/wp-content/uploads/2020/11/prt-blog-1-1.png
ProRankTracker.com
2019-04-17 20:03:35
2022-08-31 13:23:16
9 Tips and Guidelines for High Quality Customer Service and Satisfaction