6 vital things for the SEO industry that every expert needs (SERP tracking guide)
Does your rank tracking SEO tool hold up to current industry standards? In this article, we will explore exactly that.


You are paying a premium to track your search engine ranks, and in return for this premium, you might get mediocre results at best.


You might be wondering why that is. Well, you are about to find out.


If you are new to this blog read on, and what you will learn here today, might save your SEO strategy from losing steam in 2019.


This one will be about the blunt truth of SERP tracking in 2019, and why the tool you are using may not up to par anymore.


Now we mention these things a lot here in our blog and this is simply because we know the market we operate in professionally. Accurate search engine rank tracking is our MAIN focus.


Without further ado, here are the 6 things that are probably MISSING from your SEO tool and are absolutely NEEDED for SEO in 2019, and why:


1. Deep Google rank tracking

So, this is probably the most important element to consider as far as keeping your SEO strategy healthy. That is monitoring its progress CORRECTLY.


The Google search engine rank, a.k.a your position in the SERP, is made up of many layers.


"Layers" are basically the technical checks that Google does before populating your SERP to a certain search query. These checks are made to ensure you get the most relevant results for you. This is also called Personalization of search results.


There are currently 5 main layers that need to be penetrated by an SEO tool that tracks Google positions to know your real rank. You probably know only some of these.


Most tools on the market can check up to 2-3 layers. No one gives you the full scope (you can confirm this by simply checking the most common SEO tools and SERP trackers on the market, and you will see this is just how it is). Even the 2-3 layers that they do check are often outdated and mishandled.


The 5 layers are:
The geo-targeted layer

Google firstly checks to see where the user is located, so they can at least show them location-relevant results. That way a person searching Google to order some pizza from Queens New York doesn't suddenly get results from Mexico.
Most SEO tools on the market can get you an estimated Google rank that most people from an entire country, state or region get.
That's great if we're in 2014. But the thing is, SEO is so local for most businesses these days, that knowing the rank most people from a whole region get, is almost useless and certainly not accurate enough.


The levels that are required today are city, neighborhood and airport levels of accuracy. And people in fact will see different search results even if they are located just a few blocks from each other, 99.9% of the time.


Let's continue with our pizza example. If you have a website of a pizza place that services the Queens area in New York, you couldn't care less what people outside of Queens see when they search for "pizza delivery" on Google. You need to know what most people from Queens see when they search Google, and most importantly – is your website even showing within the top results?



If you promote a car rental website that targets Kennedy Airport, you would be specifically interested in what people see when they search for a car rental in the airport.


More cool info on airport ranks:


Google airport ranks and the new levels of local SEO rank tracking in 2018


The device type layer

Next Google will want to know if you search from a desktop device or a mobile device. This is part of their famous mobile first indexing approach, that has been dominant in the past several years.


Websites will be ranked differently for mobile users vs desktop users.


There are a bunch of decisive factors here, such as if a website is mobile friendly or not and abides to the AMP protocols.


You can hang this on your office wall: Your website will be ranked differently on mobile devices than on desktop devices virtually 100% of the time. Therefore, at the very least you must be able to check both types of ranks.


Luckily most SEO tools on the market can also tell your ranks separately for desktop and mobile. Even if the geo-targeted area they cover is too broad and general for most local SEO use cases.


But wait, it's trickier than that, because knowing your unique mobile and desktop ranks isn't enough.


This is where it gets interesting, since no other SERP tracker, other than PRT, can successfully track those extra ranking layers.


Ready?


Mobile OS type layer

That's right, users see different search results based on their preferred choice of mobile brand. Here's proof:



The way this is determined SEO-wise is not yet fully known. Google as always is playing a very tight game, not showing many cards. Some websites simply rank better on Apple devices than on Android, and vice versa.


Regardless if you are in the SEO loop of deep OS type optimization or not, you need to make sure you are visible on both devices. Because websites can lose their organic visibility for a certain OS:




Tablet vs. Phone layer

Same situation here, only this one is based on screen size. A person will see unique search results, depending on if they use a phone or a tablet, for the exact same search query, from the exact same location (you can even try it out right now if you have both types of devices).


Again, here's the proof in case you don't want to try it out yourself:




One possible explanation here is that tablets, because of their screen size, can handle websites that are not as mobile friendly. Google views them as a hybrid of desktop and phones.. On the one hand they are mobile and run a mobile OS, and on the other hand they don't rely on AMP protocols as much.


One possible explanation here is that tablets, because of their screen size, can handle websites that are not as mobile friendly. Google views them as a hybrid of desktop and phones.. On the one hand they are mobile and run a mobile OS, and on the other hand they don't rely on AMP protocols as much.


UI language layer

This one depends on what the default Google UI language is for the user.


To simplify – a person who has French as their Google UI language, will see different search results, to those of his roommate who uses English as his UI.


Proof:




Tracking Google ranks based on users UI language is fundamental for anyone who targets specific demographics, and anyone with a translated website with multiple versions. You can read more on that here:

How to win at rank tracking multiple-region/language URLs following Google's update


And these are just the layers that refer to the classic organic Google rank. Next, we have the unique Google SERP elements, which have their own unique ranks and are determined by a different set of rules. The three major ones are:


Snack Pack & Extended map results (local finder) – Every local business MUST be able to track their ranks on these two SERP elements. If you are invisible in the extended map results, you might be missing out on a HUGE chunk of potential customers. You have to be familiar with this subject:
The video carousel – A must for anyone doing video marketing.

Now, if you want to look into Deep Google rank tracking in more details, you might want to catch up on our full breakdown of these layers. That way you will have a more solid grasp of the situation:

The 2019 Layer Cake of Google Ranks


2. Top 100 Google competitor tracking

This is the golden standard for a complete SEO monitoring experience.


Tracking your website's positions and progress isn't enough. Unless you are the only player in your niche, which is probably not the case, you also need to keep tabs on your competitors.


What we offer isn't simply the ability to follow a few of your competitors, but coverage of ALL the Top 100 positions for any keyword, with no additional costs to your rank tracking quota: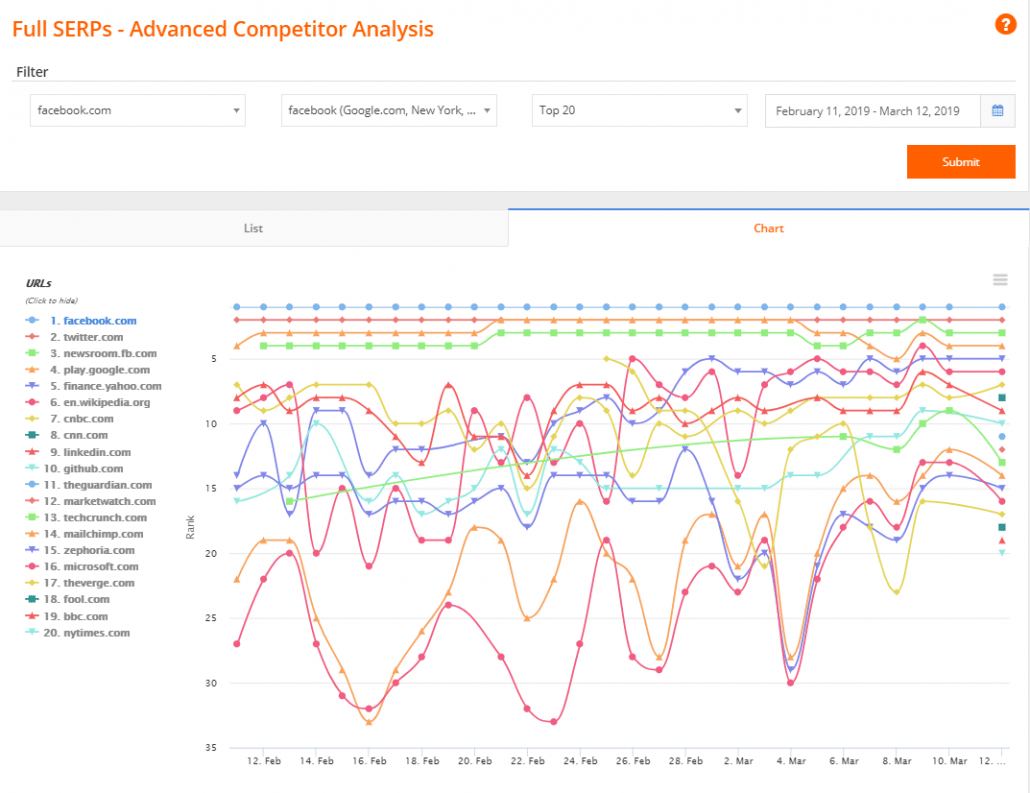 Above we see the top 20 positions for the keyword "facebook" for the entire month of February 2019.


Now bear in mind that, we will not only show you the entire Top 100 roster, but with Deep Google rank tracking and for every search engine that we track (more on that shortly).


So, what we see above is specifically the Top 20 positions for the New York area on desktop devices.


You can of course filter the results to also show the Top30, Top50 and Top100 positions.


Choose any date range, since the moment tracking began.


After that, you can generate a white label report with the ranking data that will have your logo and company details on it. Which brings us to the next point:


3. 100% white label brand establishment

The majority of SERP tracker users are SEO experts and agencies. There are of course website owners and developers that SEO isn't their main expertise, that also use these tools, but they are in the minority.


And if there is something that SEO experts have that requires their full devotion and attention its customers.


SEO experts have their own clients to take care of and keep happy, so they can keep getting leads and growing their brand and business.


PRT is here to make sure your clients are very impressed by having features directly aimed at YOUR clients:
Branded SEO ranking reports

One of the best ways to impress your clients is to offer them detailed SEO ranking reports, that shows them their progress and confirms to them, that their money was well invested. The beauty here is that the reports they get will have your logo and company details on them.



We have more than 13 types of SEO ranking reports to blow your client's minds:



Your very own branded SEO tools


You can spend hundreds of thousands of dollars developing your own unique SEO tool. Or you can have one right at your disposal for free, as part of our regular monthly plan.


One of our most loved features, are the tools you can offer your client that will have your logo on them, effectively making it seem like you have your own powerful SEO tool:


MyRanks – a mobile app your clients can download that shows them their ranks live.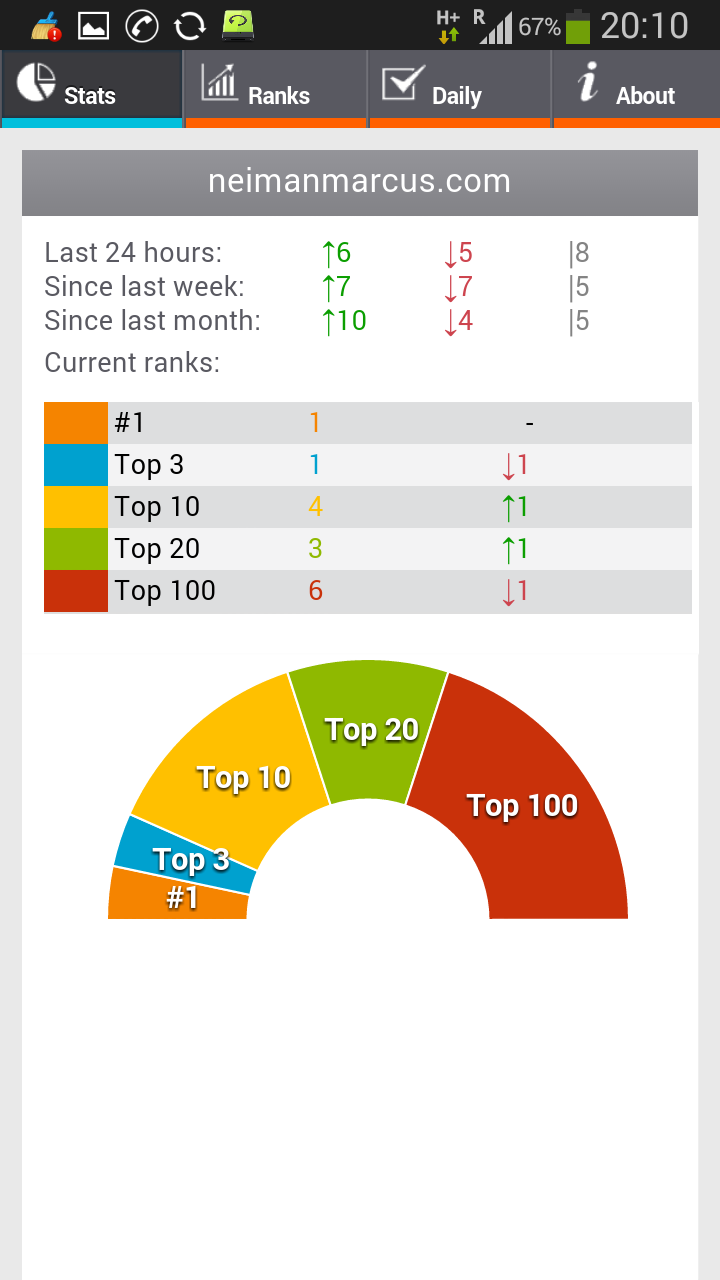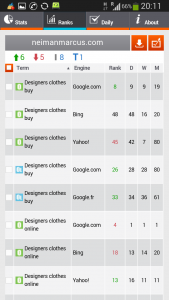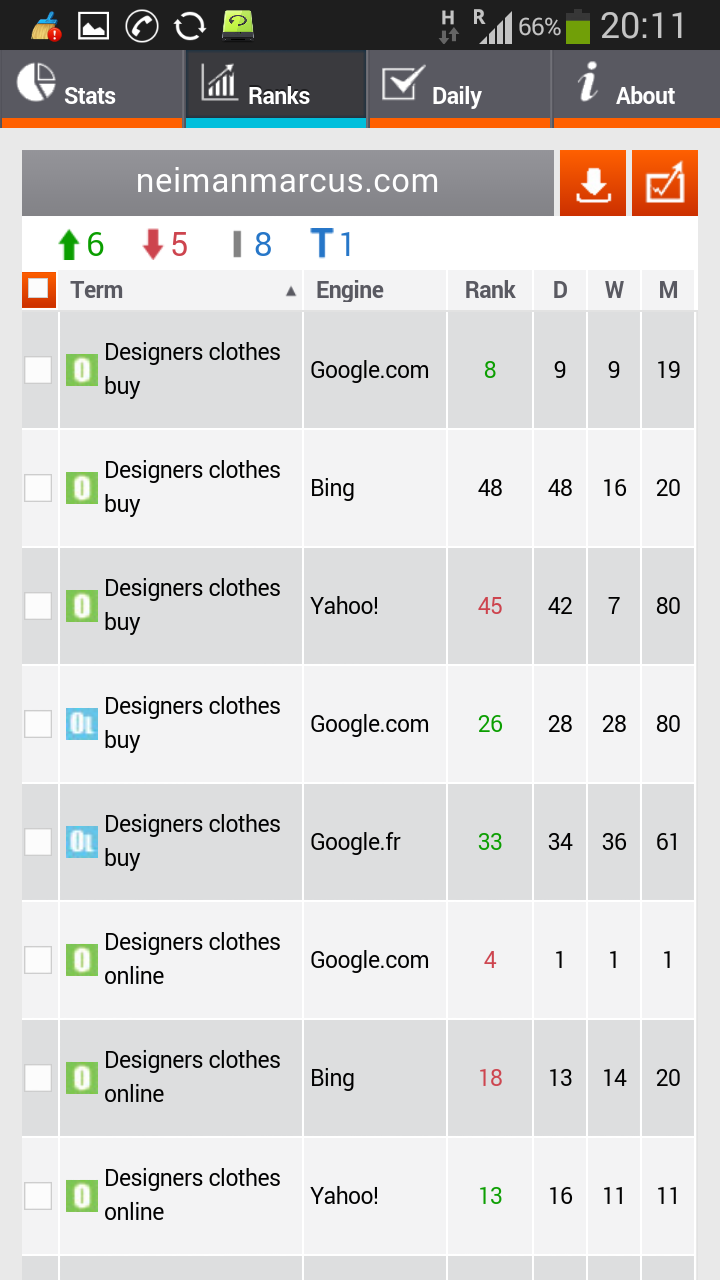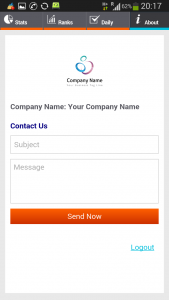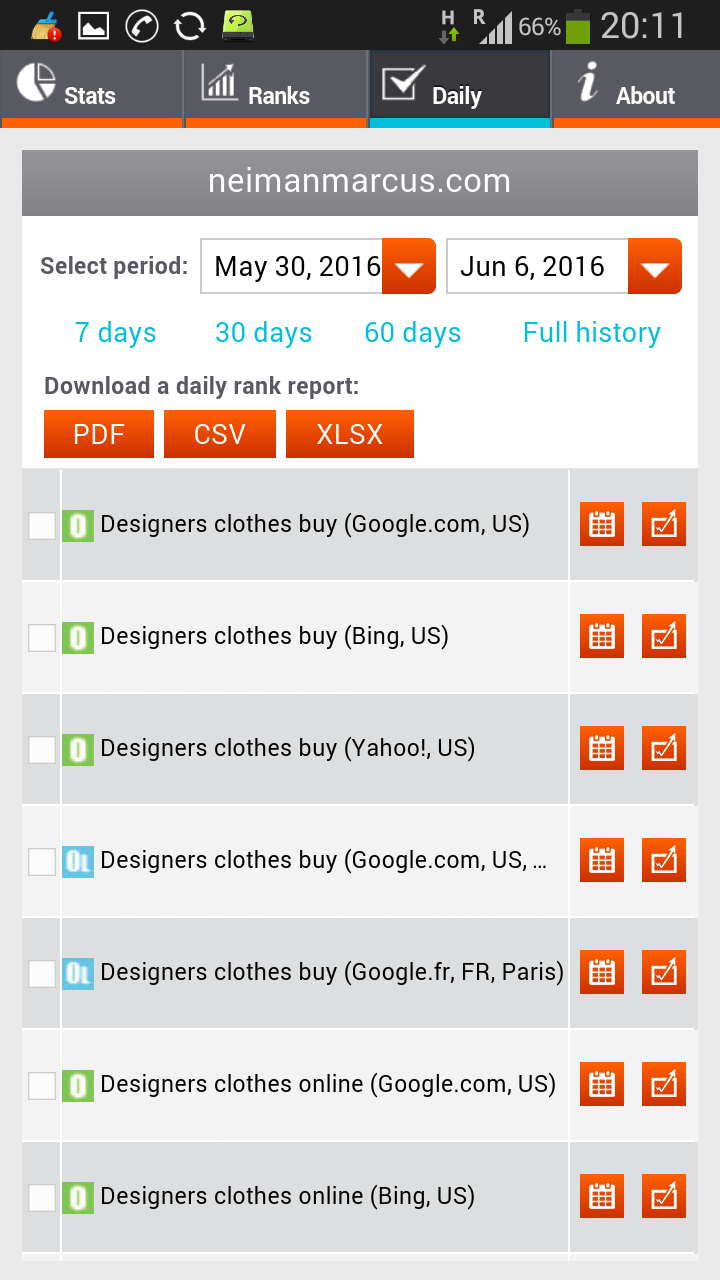 Shared Reports – a live report that can be masked with your domain. It shows your clients their ranking data. Check it out (password is "shared").


Branded sub-accounts – effectively replace our logo with yours and present our tool as your own:



This has some amazing marketing potential for your company because it relies on a very common psychological principal in nature:


Businesses use this psychological principle to influence customer impressions


4. Six rank trackers in one with search volume revealed

You no longer need to use several different SEO tools, because one supports rank tracking on Google, but doesn't track Bing or Amazon ranks.


An SEO/SEM agency is a very diverse entity. They can do organic SEO as well as hardcore marketing for Amazon. Which is why the need for a tool that will include as many monitoring options as possible, is so crucial.


Every search engine has their own standards and ranking algorithms. Each requires a unique method to track.


We have combined a total of 6 rank trackers into PRT:


Google – as we mentioned above.
Bing – including local Bing ranks.
Yahoo! – including local Yahoo! ranks.
Amazon – including local Amazon sites.
YouTube.
Yandex.com and .ru.
5. No grey fees

Grey fees are a standard in many fields, which is why this is almost never called out.


For example, it's those free trials that auto renew if you forget to cancel on time.


No judgments here by the way. We completely understand, that ultimately you have to operate by the standard rules of the niche you are in. If everyone is using grey fees and auto-renewal practices, you probably can't risk not matching this approach.


We personally don't need to use these tactics, because the faith in the quality of our tool is so high. Basically – our SERP tracker sells itself.


Which is why if you want to take us out for a spin, you can do it with our amazing 7 Day Free Trial.


And best of all – We don't ask for your credit card details to activate it!


You can upgrade whenever you feel it is right for you and only if it fits your SEO needs.


Which brings us to the final point:


6. Skype lessons and ease of use

A SERP tracker needs to have a user friendly UI and incorporate methods to effectively organize your ranking data.


Some of our users track tens of thousands of different terms and having easy data management solutions is a must.


Having video tutorials and a written knowledge base is great and most tools offer at least some of that. But we believe in a more personal approach for our users.


We want to make sure you are using everything correctly and utilizing our tool's to their full potential, so that you can properly monitor your SEO campaigns.


Which is why we offer 24/7 support and exclusive Skype Lessons.


About Pro Rank Tracker – the most complete SEO tool in the industry

After 5 years of improving our tool, and focusing on development instead of marketing and SEO spamming Google, we are proud to be the most advanced search engine tracker on the market.


We currently offer the most complete SEO tool on the market. Other than the widest SERP tracking coverage, our tool also includes:


Fast and detailed SEO site audit – crawl any website and analyze its technical SEO health.
Keyword research tools that can discover virtually every keyword in any niche.
Hidden ranks discovery for any website.
Global and local search volume revealed for any keyword on Google, Bing, Amazon and YouTube.
---
https://proranktracker.com/blog/wp-content/uploads/2019/05/ISS_4266_06096-12.jpg
300
800
ProRankTracker.com
https://proranktracker.com/blog/wp-content/uploads/2020/11/prt-blog-1-1.png
ProRankTracker.com
2019-05-02 12:25:51
2022-04-19 08:54:07
6 vital things for the SEO industry that every expert needs (SERP tracking guide)